There is no doubt that adopting Salesforce gives businesses the solid foundation required to make processes faster and more productive. But achieving and then sustaining maximum ROI is only possible when companies regularly conduct a Salesforce org review, and the reason for it is simple.
Markets change with time. The change pushes businesses to reprioritize and alter goals, necessitating a corresponding change in the Salesforce org. But what needs to be altered becomes apparent only when companies reassess it periodically.
Fail to review the platform at set periods, and it will stop aligning with the organization's objectives. Therefore, investing in a regular Salesforce review is crucial. That's how you ensure it generates maximum benefit for the business.
Let's unwrap further why it is fundamental to take stock and do systematic Salesforce health checks.
The Need for Salesforce Org Review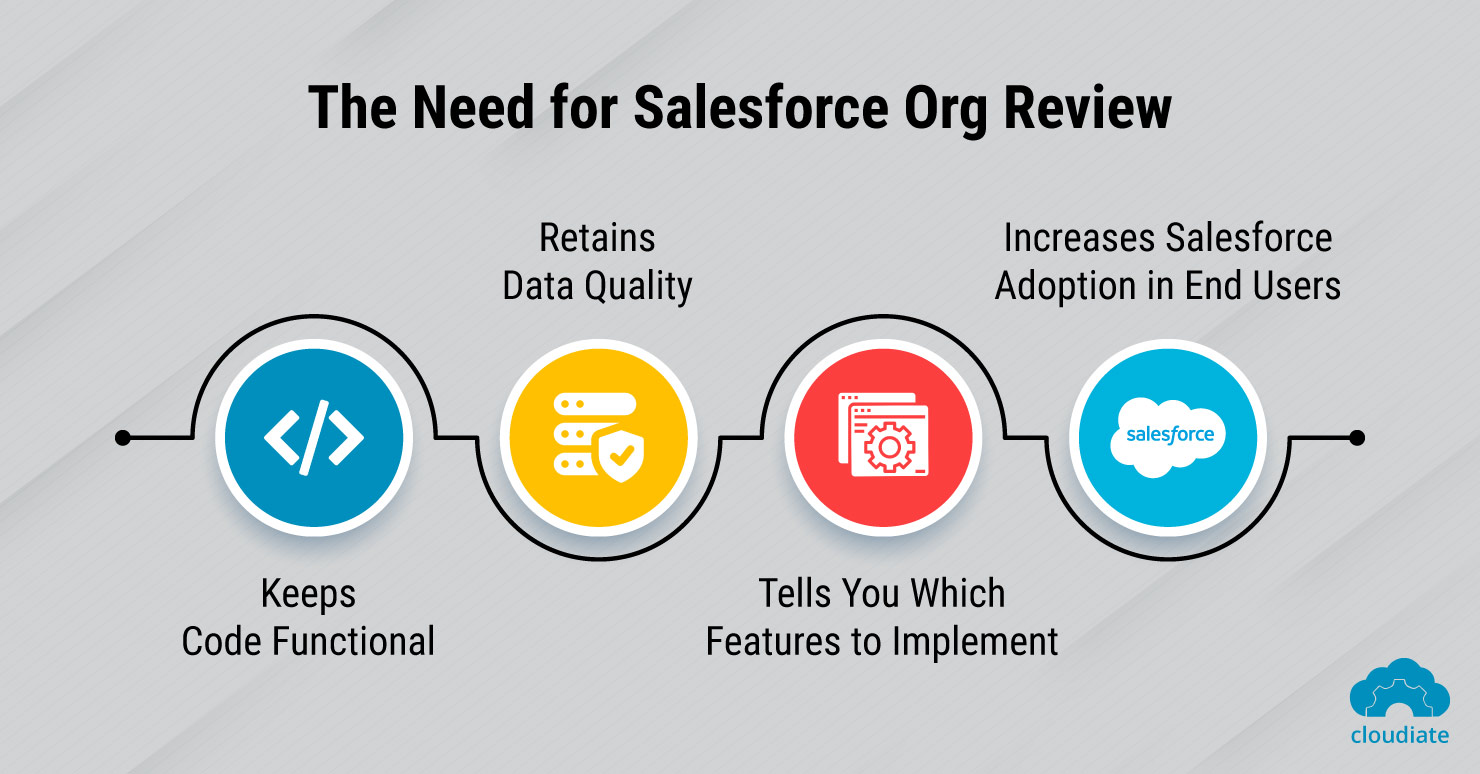 Most businesses concentrate on the Salesforce platform going live. Once that is complete, they promptly forget all about it. It is only when a new process is required, or a technical glitch occurs somewhere in the org that they remember the implementation and scramble to make it work as needed.
A Salesforce org review bypasses this chaotic scenario because it regularly puts your system under the microscope. It evaluates where the org has veered off the set path. After the review, you can course-correct and make sure the org aligns with the business needs and boosts performance.
1. Salesforce Org Review Keeps Code Functional
For present-day organizations, custom codes are part of doing business. But with each new piece added, the code grows more complex, allowing bugs and issues to crop up. It is why code governance is essential.
When businesses neglect to perform periodic oversight, the complexities in the code compound. Ultimately, when just one more new piece of code is deployed, it breaks and hinders business-critical operations. A Salesforce org review prevents such degradation.
A methodical review of code quality can help ascertain where issues may arise during deployment or which part of the code is aging. Thereby, you can modify and update the code in time, ensuring continued functionality.
2. Salesforce Org Review Retains Data Quality
It doesn't matter if you are a big organization or a small one. When it comes to accessing data and maintaining quality, every organization needs to be on its toes because data runs businesses. It is critical to delivering an outstanding customer experience.
But managing data access to make sure that only relevant data is exposed to the right users without interruptions is a trial. On top of it, data quality problems like frequent changes in requirements or partial inputs further complicate things.
To get the most out of your data while maintaining quality, planned reviews on data tracking or the methods used to import data are essential. An org review allows companies to gain intelligent insights from high-quality data, guaranteeing a great user experience.
3. Salesforce Org Review Tells You Which Features to Implement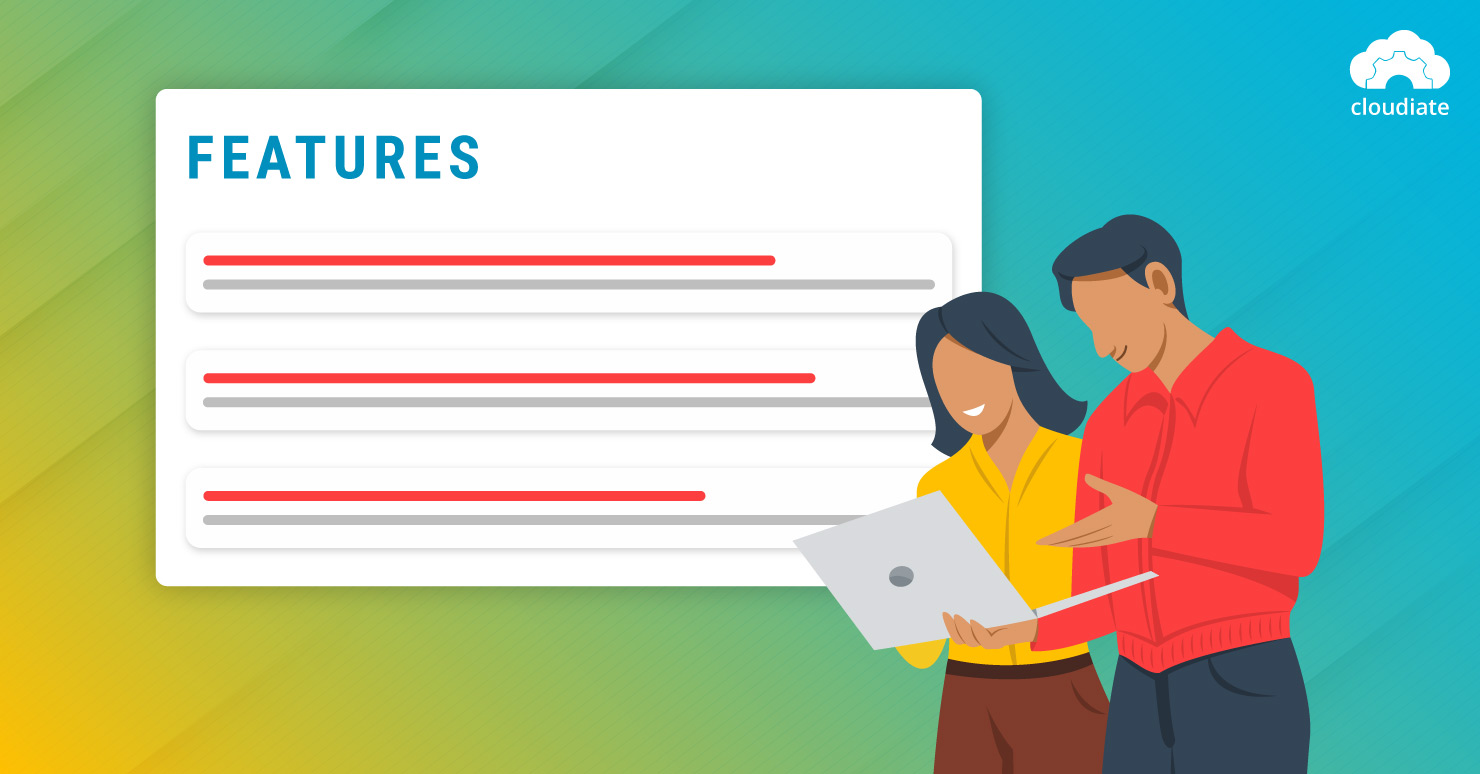 What emerging Salesforce features a business implements and the time it does so is imperative. Deploying a new feature too early or without factoring in the current processes can make maintaining the system an ordeal. The outcome is either lower Salesforce adoption or channeling more funds to achieve the established objective.
That's why businesses should never include a new release without reviewing your org. Evaluate if implementing it will genuinely improve your system or will it bring it to a halt. The review will also tell you if the emerging feature aligns with your business goals and impacts them positively.
4. Org Reviews Increase Salesforce Adoption in End Users
For a business, investing in  the upkeep of their Salesforce Org  is an imperative. But end-users are rarely  enthusiastic about it unless that investment  amplifies and improves their experience.
This is where a Salesforce org review can help. It visualizes how your end-users utilize the technology, giving you a clear picture of what jobs they need to get done and the barriers that impact it. It identifies the root cause of issues before the users completely lose trust in the org.
The issues could range from workflow automation not working as wanted or picklists not being up to date or user accounts not being rationalised or the org being overlicenced. Irrespective of the issues , a review can help make your org intuitive, simple to use, and, most importantly, relevant. Thereby , increasing Salesforce adoption in a way that's valuable to you.
The Takeaway on Salesforce Org Review
The org review for a business will be very different from another. The reason being each business has its own processes and priorities. At Cloudiate, we understand this difference. Using our ample experience, we comprehensively review your Salesforce org for numerous elements.
Is the user flow intuitive and straightforward? Does the existing architecture need essential improvements? Should you deploy new features? What is the status of your data quality? Are there any red flags you need to be aware of? What is the best method for sandbox maintenance?
After the org review, we deliver a detailed, tailored report that answers all these questions and more. We even identify areas where you can quickly improve and bring value to your organization. Besides actionable insights, we build a roadmap that squares your investment with the needs of the business.
Overall, a Salesforce org review amplifies the efficiency of your system and is, therefore, highly recommended. When you are ready to know what needs to be tweaked in your Salesforce organization and get the best return on investment, get in touch!