If your business aspirations need a better action plan to become a reality, Salesforce may be the secret you are in search of. Salesforce is the most renowned Customer Relationship Management or CRM platform in the market.
However, implementing Salesforce is no child's play. Your business would need expert assistance and technical backup to reap the full benefits of the program. Steady follow-ups, desirable upgrades and amendments, practical goals, and fool-proof management are necessary.
At this juncture, resorting to Salesforce Consulting services so that your ROI remains satisfactory may be your best bet. This also ensures a top-class customer experience.
So, how does Salesforce allow collaborations with experts to make the job easier for you? Read on to find out.
What is Salesforce's Consulting Partner Program?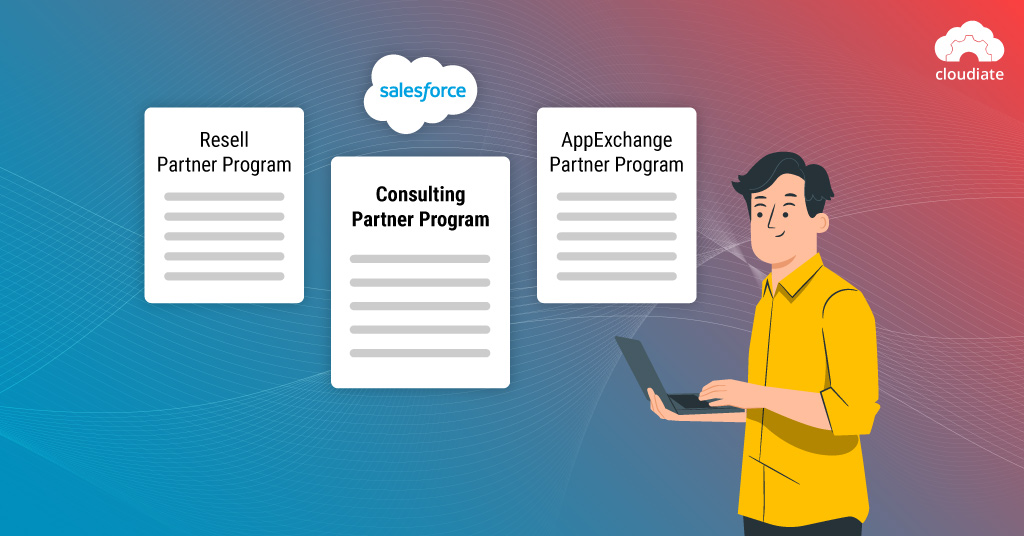 If you already didn't know, Salesforce nurtures an 'ecosystem' that permits partnerships with various firms to build applications that may be personalized for your use. This is exclusive for companies that offer Salesforce's services and have an expert team headlining the job.
Consider Cloudiate, for example. Cloudiate is a one-stop solution to all Salesforce-related issues. We are focused on improving the business experience for those who use Salesforce. From building apps to legacy information systems – you name it, we do it!
The partner program endorsed by Salesforce was relaunched in 2020 with some changes. Let's get familiar with the latest version.
The program includes three tracks. The AppExchange Partner Program is most suitable for software developers. However, the Consulting Partner Program is mostly utilized by firms that offer value-added services. The third model, called Resell, is relatively secondary to these.
AppExchange Partner Program or Independent Software Vendors (ISV) Program
This program facilitates application developers to integrate with Salesforce to market their products with the platform's support. The AppExchange Marketplace is an abode of apps that are featured by Salesforce. It is one of the biggest enterprise cloud marketplaces.
Pay a visit to the AppExchange Marketplace to know more.
Resell Partner Program
Just as the name suggests, this is a place where partners have the freedom to sell Salesforce licenses. However, they may not be involved in the implementation process. Therefore, you will have to directly deal with the complexities involved in installing Salesforce to your business.
Here is where our attention needs to be diverted to Salesforce Consulting Partner Program.
Consulting Partner Program or System Integrator (SI) Program
Salesforce CRM is perhaps the best way for businesses, big or small, to safeguard and treat customers well. Additionally, it can also track down potential leads and target them accordingly.
According to Brian Dean's statistics, more than 150,000 businesses use Salesforce. However, not even many active users are fully aware of all the benefits of Salesforce CRM.
A consulting partner is perhaps the bridge between you and an efficient Salesforce implementation. A consulting partner is a company that helps to acquaint your business with Salesforce and serves to implement its customized features.
This model is more wholesome because it focuses on business growth and customer service. A consulting partner can recommend the most suitable of Salesforce tools for your business and assist you during its implementation.
Why Hire Salesforce Consulting Services?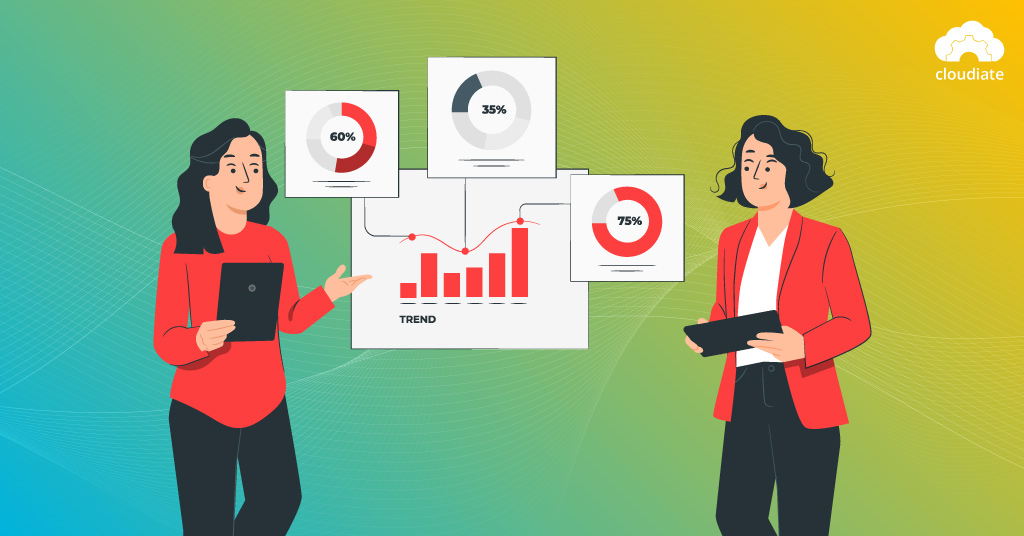 Here are the potential benefits of hiring a consultant while opting to integrate with Salesforce.
1. Tracking the CRM Progress after Implementation
Salesforce consulting services help you track the technical aspects of your CRM strategy after you install it using Salesforce.
The benefit of tracking your progress is that you can conveniently make changes to your marketing campaigns and other business strategies once you see the statistics of their impact. In addition, you can make customized changes and denote special attention to areas that lack efficient execution.
The consulting partner would also recommend the changes you need to make! Talk about easy!
2. Well Thought-Out Decisions
It is always better to take expert advice when it comes to the tricks of the trade. Salesforce Consulting services usually have technical experts in their realm. Therefore, their suggestions are of utmost importance.
Major business decisions are intrinsic elements that could make or break your bond with customers. With adequate guidance and optimal inputs, you can strategize a plan that will nurture the interests of your existing customers. Additionally, they can also play a major role in transforming your conversion rates.
3. Guaranteed Customer Satisfaction
Salesforce is fashioned to satisfy customers. With the aid of a consulting partner, your strategic planning can be improved manifolds. Since Salesforce is the abode of CRM, you could find it difficult to choose its most appropriate functionalities. A consultant will do the job for you while keeping your budget and goals in mind.
The biggest incentive, in this case, is the tactful avoidance of unwanted services. Unfortunately, many organizations make the mistake of investing unnecessarily in services that don't benefit them. With the help of Salesforce consulting services, you can decide on an action plan best suited for your industry and customer demographics.
This, in turn, ensures 100% happy customers. Every customer may be treated separately and supplied with personalized offers, targeted ads, etc.
4. Service Cloud
Here is a space that permits customers and agents to collaborate freely. Service Cloud is the must-have for your customer support department. With Cloudiate's assistance, everything from service process automation to omnichannel customer support may be enabled.
As a Salesforce Consulting partner, Cloudiate prioritizes your CX strategy beyond everything else. We ensure that your customer support team does not falter at any stage in the transaction.
5. Marketing Cloud
Salesforce Marketing Cloud guarantees superior brand experiences to your customers. Marketing automation is the smartest way to reach out to a lead and follow up. With a partner's assistance, you can develop a single view of each customer and personalize content for them.
Take a look at this blog to learn how Salesforce Customization can be made better with a consulting partner.
6. Budget-Friendly
One of the biggest incentives of seeking help from a consultant is how easy it is on your pocket. With better budget-centered planning, it is easier for you to invest more in other areas of importance.
Certified consultants will choose the most optimal tools for you in accordance with the size of your budget, organization, usability, and targeted leads. A Salesforce project can be valued anywhere between $25 to $400 user/month. This mammoth gap is due to the long list of features Salesforce offers. Amongst these, you might have to cherry-pick the ones that suit your business.
Facilities like data integration and migration, customization, etc., are relatively more expensive. If a consultant can verify if these added functionalities are necessary for your business, you can be at peace knowing that you are investing in the right place.
7. Automated Workflow
You do not have to be told that automation tops our list of best strategies to target audiences. Salesforce cloud is a completely automated process that serves to deliver 24×7 customer service. This means you do not have to dedicate a team to preserve your leads. Instead, automation enhances proficiency by delivering what a lead is looking for at the right moment.
This can reflect on your sales and business flow. You will notice that better ROI is churning in after integrating with Salesforce consulting services. With a reliable shoulder like Cloudiate to rely on, you would not have to worry about advertisement campaign planning, marketing, sales, and branding. It only takes initiation and timely upgrades.
Takeaways  
A CRM-centered business model is the best way to go about it. You can easily track customer actions and understand their preferences better. However, since even the biggest names in the business also need assistance in integrating Salesforce into their workflow, it's wise to adapt to the facilities offered by a consulting partner.
Cloudiate is the savior you are looking for. With the perfect union of Salesforce and Cloudiate, you can ensure that your CX game is the best among your competitors.
We provide technical assistance vital for the smooth functioning of Salesforce. However, we ensure that the model we follow precisely adapts your industry, business size, budget, and target audience.
Take a look at our services here.