It's pointless to emphasize enough the importance of maintaining customer relationships in today's competitive world. Customer Relationship Management (CRM), a.k.a customer retention framework,  helps marketing and customer service teams to meet their objectives and make the customer experience as positive as possible.
For instance, when Uber's monopoly faced the threat of losing over 95 million users worldwide, owing to market competition and other issues, it quickly turned to Salesforce CRM solutions. Uber was able to track its users' engagement on social media and respond to interactions.
They addressed customers' complaints quickly using the Salesforce dashboard and were able to formulate a game plan to establish a stronghold in customer relations. The brand used Uber Rewards to maintain its customer base by incentivizing customers with every ride or food order; a textbook example of how effective CRM can help a brand establish trust among customers and stay on top.
So, CRM platforms like Salesforce go beyond lead generation and holding prospect data. Instead, it ensures agents stay on top of their tasks and schedules to maintain strong customer relationships. Salesforce enables users to readily access data from anywhere and perform their functions as a cloud-based CRM platform.
What Is a Salesforce Partner? Why Do You Need One?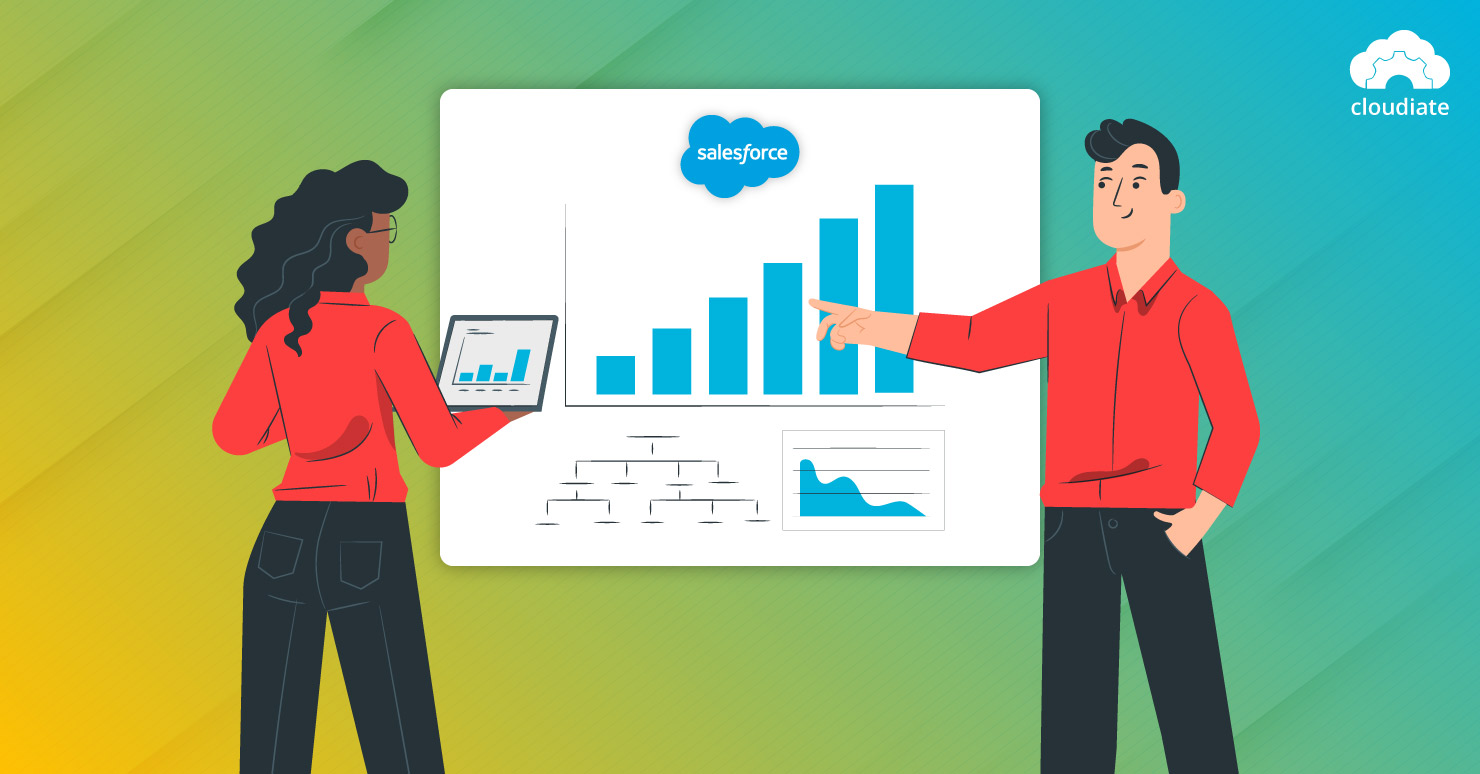 A Salesforce Partner is a consulting agency authorized by Salesforce to develop and deliver customer relationship solutions customized to client needs and assist in integrating and implementing the same. They undertake intricate tasks in migration, software customization and development, integration, implementation, and, most times, after-support.
Salesforce Partners have certified Consultants, Administrators, Architecture, Developers, and Marketers from Salesforce to ensure standard and timely product delivery. Their credibility is backed by updated and recent certifications, client stories, portfolios, and Salesforce itself. In short, a Salesforce Partner makes your life easier.
However, choosing the Salesforce Partner that fits your goals and requirements can be a challenge. For example, Gartner says that 83% of the data migration projects failed to meet budgetary constraints, on-time deliveries, or simply failed. Poor management, unrealistic expectations, and low data standards can cause at least 18%-69% of CRM Implementations to slow down and ultimately come to a halt. Therefore, to make maximum ROI, businesses need to be wise when hiring the perfect Salesforce Partner.
How to Pick the Right Salesforce Partner for Your Business?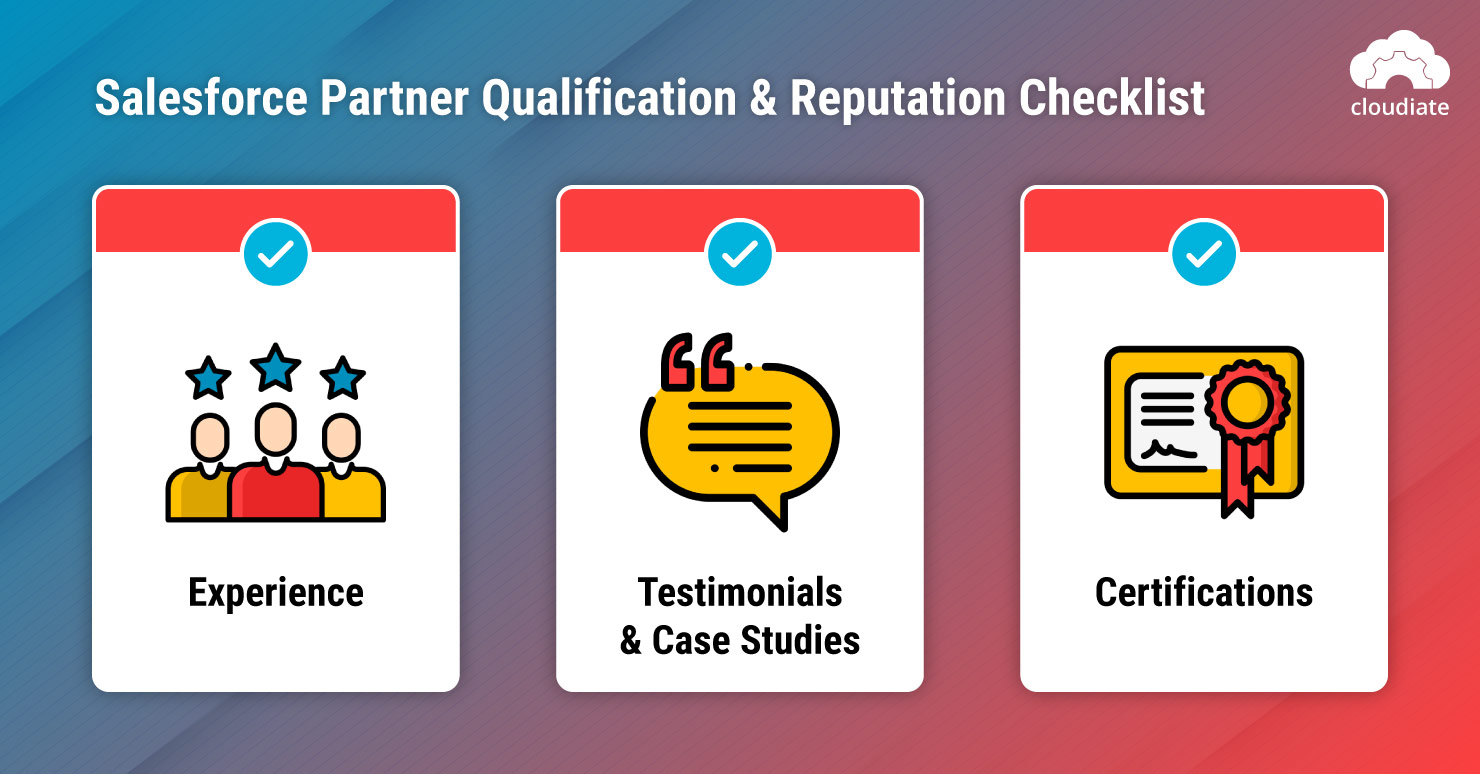 If you have made it to this part of the article, you probably already have a CRM solution but are not fully satisfied with its performance and hence, are looking to migrate to a different solution.
Or, you are implementing a CRM solution for the first time for your business and contemplating hiring a Salesforce partner.
Either way, finding a satisfying solution and a worthy Salesforce partner can be overwhelming and painstaking. Cloudiate can lighten your load with these simple yet effective tips:
#1. Vet your needs first
Salesforce partners offer several services that help businesses grow and profit from CRM systems. You might need all of their services for your business. But stocking up unnecessary resources wastes capital and labor. Consulting and implementation partners understand client requirements thoroughly and recommend solutions that fit client goals and team competency.
Solutions that are not client-centric will quickly fall apart. Make sure your Salesforce consulting partner works towards bringing your teams together to meet your goals and not otherwise. Before looking for a Salesforce CRM partner, introspect on what you look for in a partner. For instance, find out if you require a Salesforce Cloud, AppExchange Partner, or System Integrators.
"We needed to get much faster, work on a collaboration, connectivity, and scalability — and all that in a mobile context. Salesforce has been a fantastic partner and a great help for us."-  Ulrik Nehammer, CEO.
Read more on how Coca-Cola Germany used Salesforce Cloud Service to their benefit.
Custom apps built on the Salesforce platform brought flexibility by powering Coca-Cola's multiple parts. Thorsten Kohler, CEO of Your SL, Coca-Cola Germany's Salesforce partner, related the Cloud platform to an extensive toolbox that brought flexibility and scalability to every department in Coca Cola Germany.
Salesforce enabled departments from bottling locations to field reps using the cloud apps on the Salesforce platform to perform as one big team while delivering to Coca-Cola's customers. Coca-Cola Germany is now equipped to solve issues so that teams collaborate and fix them seamlessly and instantly.
Like Coca-Cola, identify the challenges and pain points you face with CRM or with your existing solution. Then consider factors and challenges about the size of your company, activities and processes carried out every day, and the roles and the designation of users for the specific platform so Salesforce CRM partners can personalize and launch the solutions appropriately. Once you have understood your needs, you can proceed to the next step that is:
#2. Know your Options
You can start hunting for a Salesforce Partner using simple online searches. By visiting their websites, ebooks, resources, etc., you can gain more insights into their capabilities. In addition, you can find their scores and reviews from Trailblazer Communities and Official Salesforce Chatter Groups.
Salesforce Partners are classified into 4 levels based on Trailblazer Consulting Partner Score :
Tier 1 (Base): 0-249
Tier 2 (Ridge): 250-499
Tier 3 (Crest): 500-749
Tier 4 (Summit): 750-1000
Salesforce measures the partner's mentioned above scores based on four parameters:
Customer Success
Innovation
Growth and
Lead
The partner scores are assessed and revised based on these parameters at the end of the Salesforce fiscal year. Therefore, depending on their levels, their services may vary. You can also investigate services and reviews of Registered Salesforce Implementation Partners like Cloudiate through these online searches.
Researching your options will give you a clear idea of the plethora of options you have out there and narrow down on opportunities that suit your needs best. Also, do not proceed with the first responder. Instead, be patient and compare pitches and quotations from multiple options before picking your Salesforce Partner.
#3. Check for Qualification & Reputation
Partner scores are essential but not adequate. Therefore, when you meet with a potential Salesforce Partner, background checks and qualifications are a must. Check out the following:
Experience 
Find out the types of businesses they have worked with. Salesforce partners who have worked with clients in the same field as yours may better understand your needs and deliver efficiently. At the same time, Salesforce partners handling diverse projects have a broad understanding of multiple solutions that can work for you and will be able to make suggestions to simplify processes in your company.
Testimonials and Case Studies
Although Salesforce Partners are equipped, trained, and evaluated periodically by Salesforce, knowing the clients they have previously worked with and reading testimonials will help you discern the right fit for you. It will also eliminate any doubts and concerns you may have with your choice.
Certifications 
Salesforce authorizes a registered partner after numerous intensive training and skill assessments before certifying them. It issues certifications for Consultants, Administrators, Architecture, Developers, and Marketers. Therefore, a registered Salesforce Partner will at least have Developer and Administrator Certifications.
#4. Do Calculative Budgeting 
Don't burn a hole in your pocket by compromising on expertise and quality. It is straightforward to choose an option that does not cost too much up front, which may not be as effective in the long run.
Evaluate implementation costs and after-sales support offered by the Salesforce partner, especially if you are looking at long-term goals (which you should). When budgeting, Total Cost of Ownership (TCO) must be evaluated based on product license, internal labor services, and long-term maintenance cost.
#5. Assess Long-term goals
As mentioned earlier, CRM is the greatest asset to a business, be it a small start-up business or a giant enterprise. When the CRM aspect of your business is sorted by a Salesforce Partner like Cloudiate, it lets you focus on core duties and delegate the maintenance and support to us.
A Salesforce partner capable of long-term commitment delivers quality from process implementation at the beginning to emerging needs in the future.
Implementation
Consider the team size and expertise levels of the Partner. Assess if they are competent for timely deliveries within the given budget without compromising on quality. Also, a Salesforce Partner like Cloudiate sorts the CRM aspect of your business to assess the partner's ability to implement different configurations and carry out migrations and integrations effectively, as specified and required.
Collaboration & Co-ordination
The Salesforce Partner must stay proactive while handling tickets and offering support. When outsourcing an asset such as this, you will need a team that aligns with your goals and executes deliverables efficiently. Salesforce partners need to be clarified about the responsibility/designation of every user within the company so customized solutions can be built to perfect their processes. This results in a solution that enables users to gain insights and make decisions swiftly and more accurately.
When the Salesforce Partner's goals and your business align, responsibility and contingency plans can be quickly drafted as decisions are made with diminished risks and strategic planning. A guaranteed ROI is possible when your businesses focus on acquiring a Salesforce partner with careful considerations such as these.
Cloud-based solutions like the ones provided by Salesforce partner Cloudiate cater to needs and requirements personalized to its customers.
Your business will be in the best hands with Cloudiate's extremely skilled team and an impressive portfolio that will churn out solutions that fit you like a glove.