Email marketing today generates an impressive return on investment (ROI) of $42 for every $1 spent, making it one of the most cost-effective marketing channels available. Moreover, 93% of B2B marketers use email to distribute content, and 59% of consumers say that marketing emails influence their purchase decisions. Evidently, email marketing continues to be a crucial tool for businesses seeking to engage with their target audience effectively. One way to gain expertise in this field is by obtaining the Salesforce Certified Marketing Cloud Email Specialist certification.
This certification validates individuals' abilities to create, send, and track email campaigns using Salesforce Marketing Cloud, a powerful platform for email marketing. 39% of professionals reported a salary increase after obtaining a Salesforce certification.
This blog delves into the significance of the Salesforce Certified Marketing Cloud Email Specialist certification and explores its potential benefits for career advancement and personal development.
Salesforce Certified Marketing Cloud Email Specialist Certification
The Salesforce Certified Marketing Cloud Email Specialist certification showcases your expertise in using Salesforce Marketing Cloud for impactful email campaigns. It's for hands-on professionals skilled in both practical and strategic email marketing. This empowers you to leverage tools, make data-driven decisions, and refine campaigns for optimal results.
Topics Covered in the Certification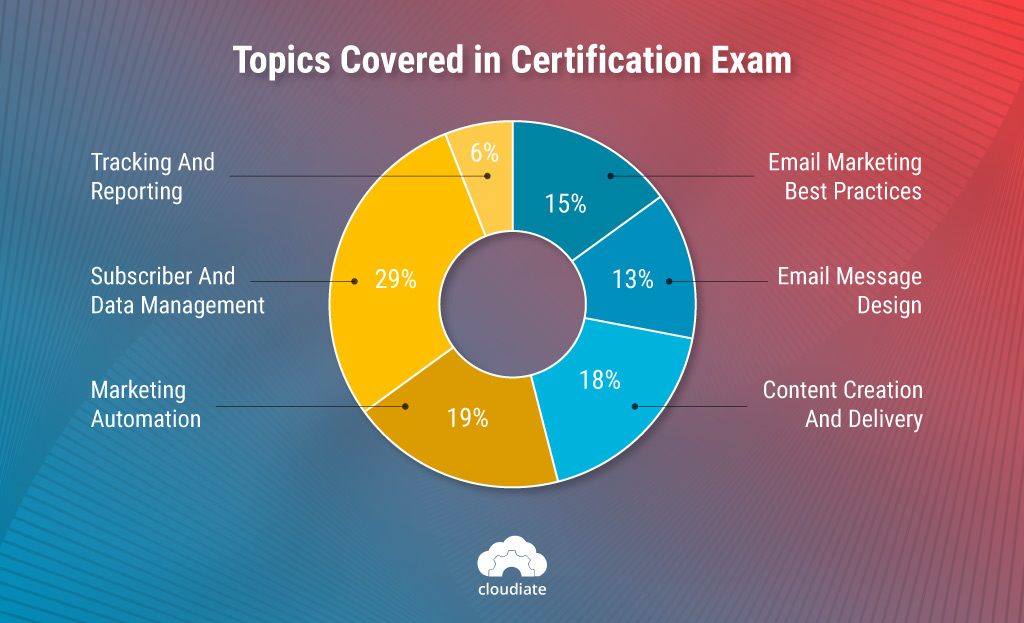 The certification exam covers a diverse range of essential topics that are crucial for effective email marketing campaigns, such as
Email Marketing Best Practices – 15% Weightage
Email Message Design – 13% Weightage
Content Creation And Delivery – 18% Weightage
Marketing Automation – 19% Weightage
Subscriber And Data Management – 29% Weightage
Tracking And Reporting – 6% Weightage
Who is This Certification For?
To score the Salesforce Certified Email Specialist badge, having a strong grasp of email marketing fundamentals is a must. You'll need to demonstrate your knack for crafting comprehensive email marketing campaigns, backed by around 6-12 months of hands-on experience with the Marketing Cloud Email application and its associated toolkit.
Additionally, you should be comfortable with tasks like designing relational data models, employing diverse email application sending methods, setting up intricate email automation, and dissecting reports to glean insights from email tracking data.
While it's a plus to be familiar with HTML, JavaScript, CSS, or design principles, it's not mandatory. You won't be expected to be a pro at creating custom API integrations, either. Likewise, you won't be quizzed on the finer points of Marketing Cloud Server Side Scripting Languages like AMPscript, GTL, and SSJS.
About the Salesforce Certified Marketing Cloud Email Specialist Exam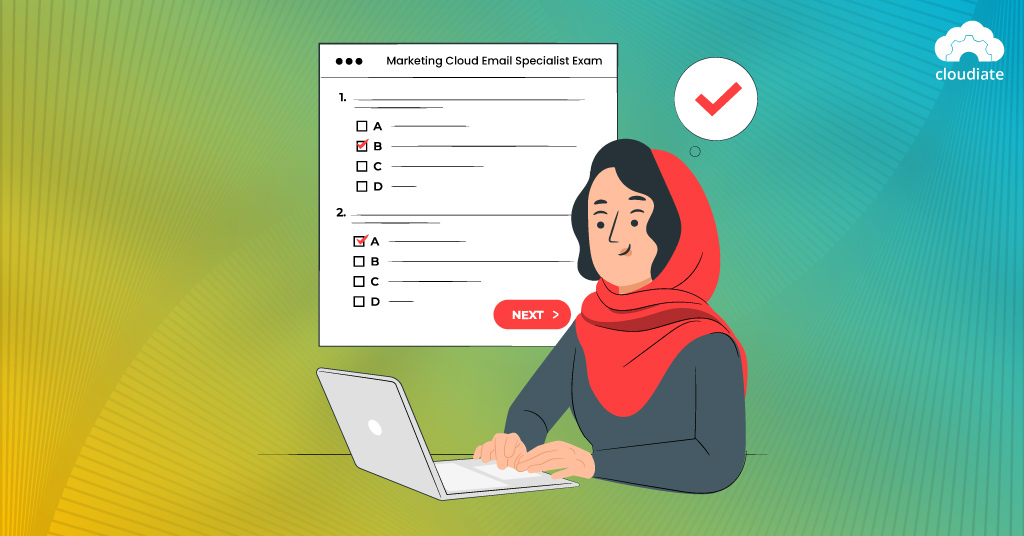 The Salesforce Certified Marketing Cloud Email Specialist exam is comprised of 60 questions in a mix of multiple-choice and multiple-select formats. Candidates have 90 minutes to complete the exam and must secure a minimum passing score of 65% to earn the certification.
The exam cost is USD 200, and if a retake is necessary, there's an additional fee of USD 100. You can take the exam at a testing center in person or in an online proctored setting.
It's important to note that no physical or online materials can be used as a guide. There are no specific prerequisites needed beforehand. However, attending the Email Essentials (EEB101) course is highly advisable, mainly since it covers Content Builder.
Additionally, if you haven't taken EEB101 or you are relatively new to Content Builder, then attending the Content Builder Essentials for the Digital Marketer (EML101) course is strongly recommended. This course will help you get a solid grasp of Content Builder and its intricacies.
The Career Value of Being a Salesforce Certified Marketing Cloud Email Specialist 
The Salesforce Certified Marketing Cloud Email Specialist certification holds excellent value for email marketing professionals. It showcases the mastery of Salesforce Marketing Cloud for successful campaigns, setting candidates apart in a competitive job market.
Some key benefits of acquiring this certification are:
1. Elevate Earnings and Opportunities
Stats indicate certified pros earn more, with Salesforce certified individuals making 25% more than non-certified peers. Recognized certifications boost job prospects, leading to potential 40% pay hikes. Certification paves the way for promotions and leadership roles, thanks to proven expertise.
2. Enhance Email Marketing Proficiency
Becoming certified significantly boosts email marketing skills. In-depth study and practical application offer comprehensive knowledge. You gain insights and strategies to craft impactful, targeted campaigns.
3. Stay Current with Trends and Best Practices
Certification exposes candidates to the latest email marketing trends and best practices, ensuring relevance in the evolving digital landscape. Cutting-edge techniques maximize engagement, optimizing open and click rates.
4. Hands-On Campaign Experience
Certification involves creating email campaigns using Salesforce Marketing Cloud. Practical experience refines audience segmentation, content design, and automated workflows. Mastery ensures personalized, resonant messages for recipients.
How to Prepare for the Salesforce Certified Marketing Cloud Email Specialist Exam
Want to start your journey to get the certification? Here are some resources to help you get there:
1. Utilize Trailhead Modules for Exam Prep
Trailhead has tailored modules for Salesforce Certified Marketing Cloud Email Specialist exam readiness. These interactive, self-paced resources cover vital topics, enabling flexible study and hands-on practice. Structured paths aid concept comprehension.
2. Practice with Official Practice Exams 
Salesforce's official practice exam mimics the test atmosphere. It familiarizes candidates with question types, aiding self-assessment. Results guide focused improvement, enhancing real exam success.
3. Consider Training Courses
For guided learning, Salesforce's expert-led courses offer practical insights and hands-on practice. These enhance the understanding of email marketing and its application in Salesforce Marketing Cloud. Optional but valuable courses suit those preferring a classroom approach.
Final Thoughts
The Salesforce Certified Marketing Cloud Email Specialist certification offers invaluable benefits. Acquiring the certification showcases your expertise in Salesforce Marketing Cloud and provides lasting advantages beyond immediate gains. This certification is not just about advancing your career but a comprehensive investment in your professional growth and success.
Cloudiate is a trusted partner for Salesforce solutions carried out by certified  Salesforce experts and developers. We transform businesses through tailored Salesforce implementation, integration, and support, delivering impactful results.
Explore Cloudiate's expert services for seamless Salesforce implementation and solutions.
Contact us to start your Salesforce success story today.