Salesforce provides several tiers of services and features. Each package of features is called an edition, and each edition is designed for a specific type of business. Currently, there are 5 Salesforce Editions – Essentials, Professional, Enterprise, Unlimited, and Developer. It's the first four to which founders and marketing managers must pay the most attention.
When shopping for Salesforce, the first step is to pick the apt edition of the Marketing, Sales, Service, or any other cloud they provide. Why? Because your Salesforce Org's functions are determined by the edition. Choosing the right one makes a huge impact on the business.
Furthermore, their pricing models differ. Sales Cloud Essentials, for example, costs USD 25 per user per month, but the Unlimited version costs USD 300 per user per month on an annual contract.
So, that's what we unwrap here – the key differences between the Salesforce Cloud editions, allowing you to make an informed decision in your business.
All You Need to Know About the Different Salesforce Editions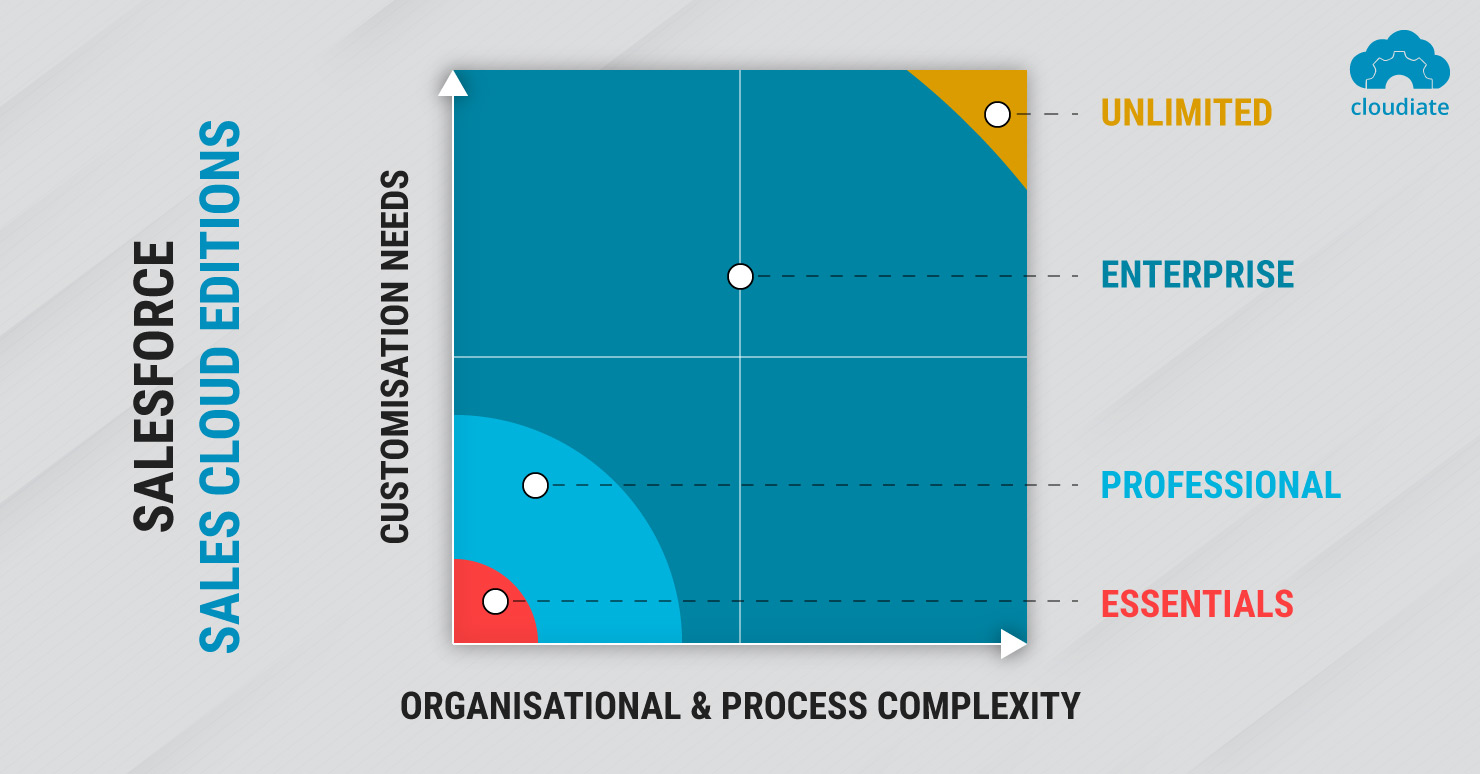 Salesforce Essentials Edition
Think of the Essentials edition as a stripped-down version of Salesforce. It combines sales and customer service tools into one app and can be used right out of the box. Since it's lightweight, businesses don't need a dedicated person to manage it. Anyone from the team can store, search, manage, or analyze the data on Essentials.
Who should opt for it?
Any small business that wants a quick to implement, basic CRM.
What is the difference?
The Essentials edition allows only 10 users and automates most of the basic tasks. For instance, Einstein Activity Capture automates sales activities by logging emails. The edition includes intuitive walk-throughs and access to Trailhead (Salesforce's training platform).
The difference between Essentials and other Salesforce Cloud Editions is that it's the most basic offering. It is excellent for small companies but not apt for actively growing businesses.
Salesforce Professional Edition
Think of the Professional Edition as a step up from Essentials. It's still a simple CRM but with broader functionalities, including customization, integrations, and administrative tools. To make the most of it, a business does need someone with Salesforce knowledge.
Who should opt for it?
Any small to midsize company that is expanding quickly and has separate marketing and sales departments.
What is the difference?
The Professional Edition has everything offered in the Essentials along with more automation features and productivity components. For instance, there are validation rules that ensure that the data entered by any user meets your standards. It also has intelligent lead management and integrated campaigns to track your sales leads, opportunities, and customer cases.
Salesforce Enterprise Edition
Think of the Enterprise edition as an advanced and customizable CRM. Anyone, from top executives to sales teams to marketing teams, can rely on it. It comes with access to Salesforce APIs, making it easy to integrate the platform with your existing systems.
Who should opt for it?
Any medium to large-scale company with complex businesses.
What is the difference?
The Salesforce Enterprise Edition hands you the key to all the functionalities of the platform, from custom automated workflows to tailored dashboards. Individual users can establish their privacy settings, while sales representatives and teams can manage their territory.
A key difference is connecting the Cloud to external systems. For instance, the Enterprise Service Cloud comes with web service APIs, enabling you to link data to Salesforce and make better use of it. Because this edition is more complex, it necessitates a dedicated and skilled Salesforce Admin.
Salesforce Unlimited Edition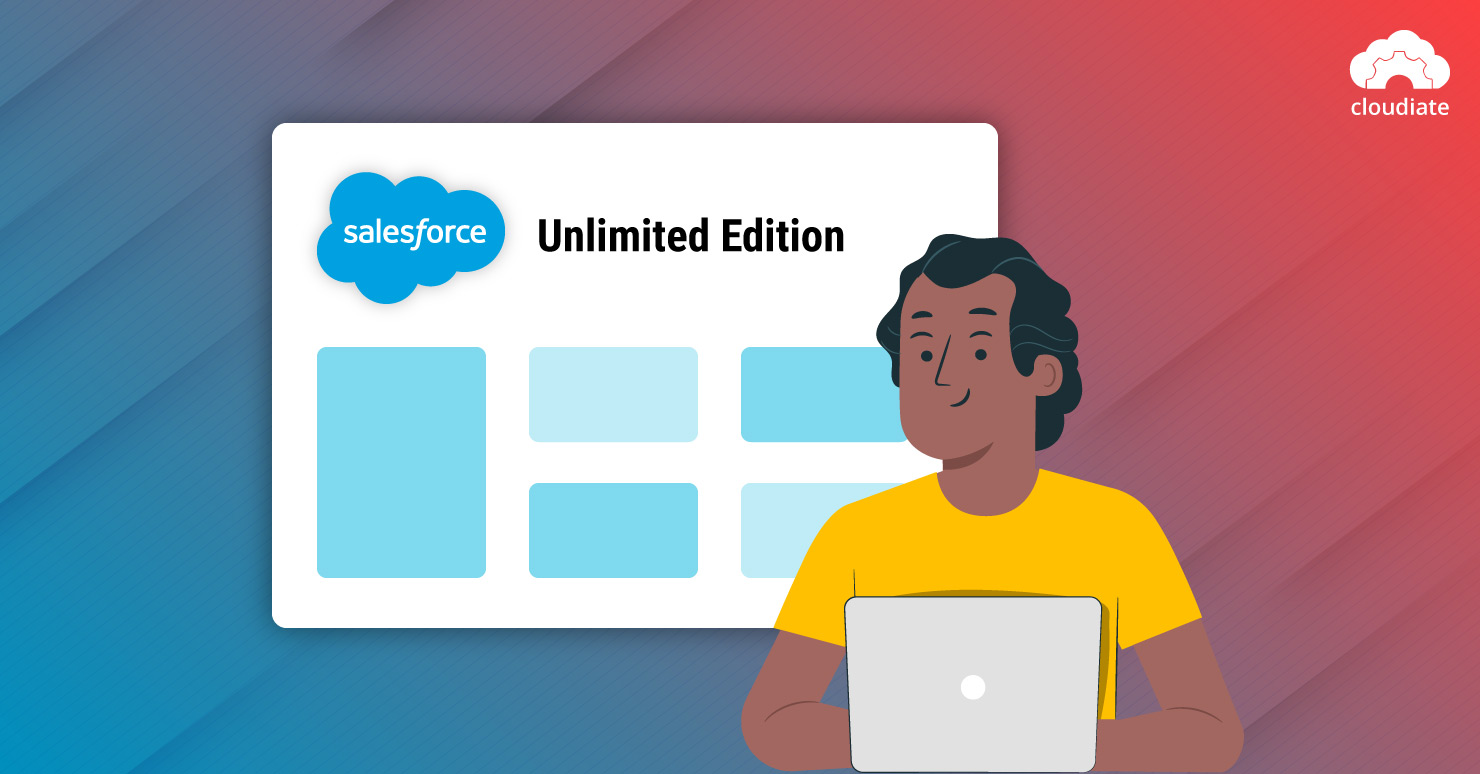 Think of the unlimited edition as a CRM for bespoke business requirements. The flexibility it offers in managing and sharing information is based on your demand.
Who should opt for it?
It's intended for the largest businesses that need multiple sandboxes and hefty custom applications.
What is the difference?
The biggest difference between Unlimited and other Salesforce Cloud Editions is access to support. It comes with 24/7 toll-free support and configuration services. Another difference is priority access. Instead of getting a ticket to troubleshoot a glitch, Unlimited subscribers can directly talk to someone at Salesforce.
Furthermore, unlike other editions that have caps on custom applications, storage, etc., Unlimited, as the name indicates, has no such limits.
Comparing the Cloud Editions
To paint a clearer picture of how the many Salesforce Cloud editions vary, we pick up Sales Cloud and Service Cloud as examples.
Sales Cloud Edition Differences
The Essential edition has no rules-based lead scoring, lead registration, or campaign influence. The Professional, Enterprise, and Unlimited editions have lead scoring and registration, but the number of campaigns per opportunity differs.
When you want to manage customer details, the Essential edition lacks the Sales Console App and Sales Teams features. The other three editions offer them, but the Professional edition allows for only 1 custom app per org. In addition, functionalities that help forecast sales more accurately are largely absent in the Essential and Professional editions.
Another difference is in advanced reporting – only the Enterprise and Unlimited Sales Cloud editions include these comprehensive features. Similarly, workflow and approval automation, customizable sales processes, and full or partial sandbox features are not offered in the Essentials and Professional editions.
Service Cloud Edition Differences
The Salesforce Service Cloud   Essential Edition doesn't come with Case Milestone Tracker, CTI (Telephone) Integration, or Orders Management, but the other three do. If you want to personalize your service experience with, say, live mobile messaging, then Enterprise and Unlimited editions are the only options.
For real-time business insights, particularly the service analytics app, the Essentials and Professional editions are not the right alternatives. Automation of workflow – such as building processes – is restricted in both professional and essential. Only 5 processes per Org are allowed, while Unlimited and Enterprise offer more.
Which Salesforce Cloud Edition to Choose?
For businesses today, not utilizing a CRM is not an option. They've evolved into a need. However, making the wrong choice might result in a significant expenditure with little return. To avert such adverse consequences, businesses must make an informed decision when purchasing Salesforce Cloud editions.
If you're new to Salesforce, Cloudiate can assist you in finding the right Cloud App edition for your needs. If your business is growing, demanding a higher version of your current edition, we can help you with a seamless upgrade. Get in touch with us.