For most Enterprise Businesses, Salesforce is currently the most sought after Customer Relationship Management (CRM) Tool. Having been around for nearly 20 years now, it provides a solution to nearly every Sales and Marketing challenge that you may face.
Salesforce largely manages your front-end information, like your client base, your lead status, Sales Pipeline, and everything under the gambit of Sales and Marketing.
However, for a successful Enterprise Business, it is also important to have tools that manage your back-end operations, assets, and resources. To avoid duplication of data and have real-time control over your business processes, these tools and applications can be integrated with Salesforce.
The ultimate aim is to streamline business processes and automate workflow to enhance productivity.
10 Most Useful Apps That Can Be Integrated With Salesforce
Here are 10 applications that you can integrate with Salesforce for enhanced productivity.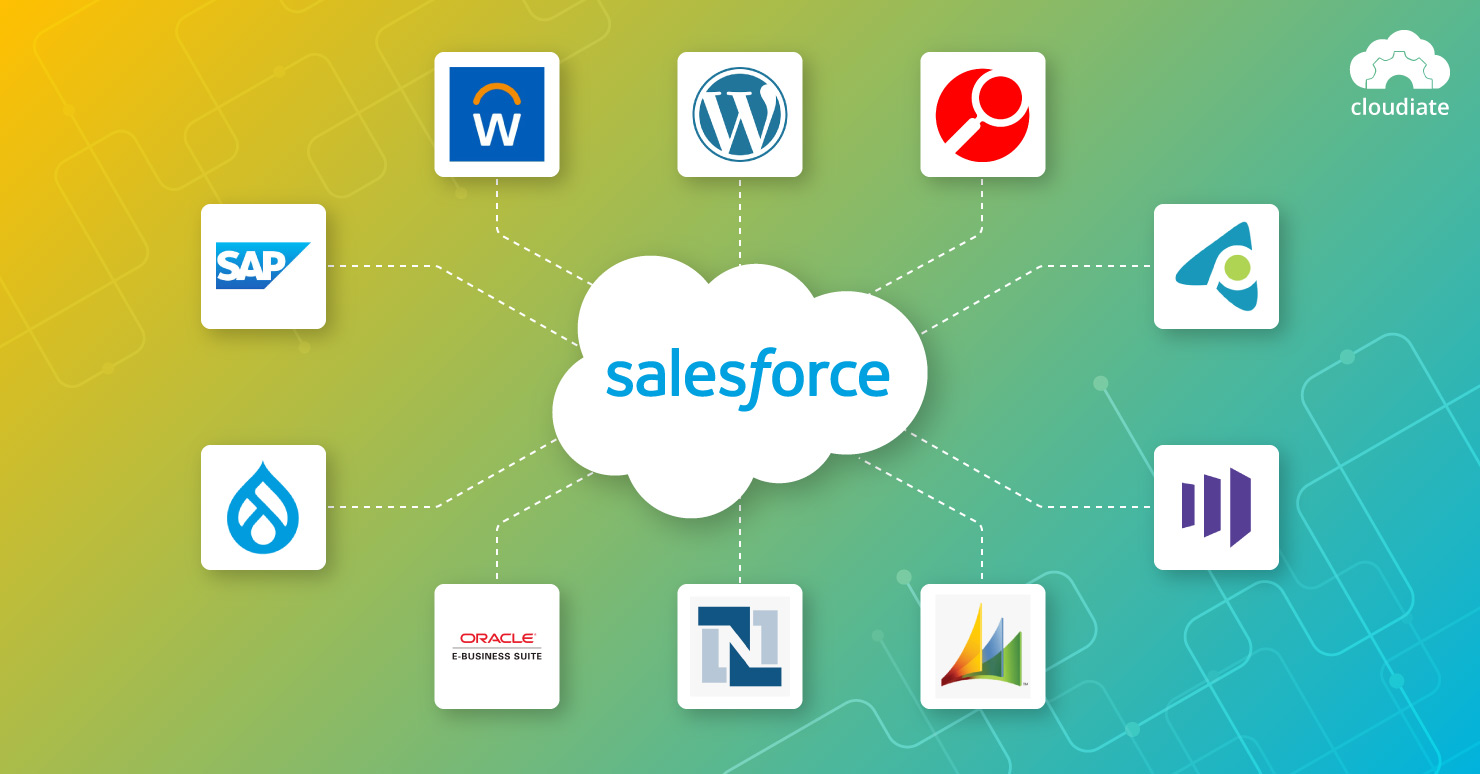 Marketo
Marketo is a SaaS platform that helps businesses to assess and automate marketing tasks. The platform promises increased understanding of Customers, Conversions, and Sales with personalized, automated campaigns aimed at targeted leads and potential customers.
When integrated with Salesforce, the powerful tool can help you understand Customer-readiness, nurture potential leads, and provide efficient customer support.
Marketo comes with an inbuilt Email Marketing Tool and works across multiple channels, including video, website, or search advertisements to provide useful insights on customer behavior.
Marketo is available on AppExchange, Salesforce's Marketplace.
WordPress
WordPress is the most common and useful Content Management Tool out there that helps businesses run and host their websites.
WordPress's advanced customization options and user-friendly interface make it an ideal CMS tool, sought after by most businesses.
An integration between WordPress and Salesforce can help you manage potential lead information, identify conversion opportunities, and even improve your networking strategy.
WordPress has thousands of plugins for various requirements that can help smoothen the integration process.
SAP Business Suite
SAP is an Enterprise Resource Planning (ERP) tool that facilitates centralized data management.
This tool aims to provide businesses with accelerated workflows, increased productivity, better operational efficiency, and hence, enhanced customer experience.
It is safe to say that SAP is the pioneer in ERP systems, just like Salesforce is in CRM tools. Integration between the two software can help companies to streamline and fully automate their business processes.
With the integration, the customer data that is available in Salesforce can be easily retrieved to record financial information in SAP.
Microsoft Dynamics
Microsoft Dynamics is another Business Process Management System, that is commonly used by large Public Sector organizations or those in retail and manufacturing business. Since the suite "Microsoft Business solutions" is already used by a lot of companies for their internal purposes, Microsoft Dynamics becomes an ideal choice for an ERP for these companies.
Just like when integrated with other ERP systems, Salesforce Integration with Microsoft Dynamics provides you a holistic view of all your business processes.
While all your customer data is managed and maintained in Salesforce, the financials, inventories, assets and other business operations will be carried out in Microsoft Dynamics.
In fact, with Microsoft Dynamics, you can also choose the modules that you want to work with when integrating with Salesforce.
NetSuite
Netsuite is an ERP system that is popularly used by small and medium-sized enterprises. It is a cloud-based platform and hence is preferred for its lower operating costs over the other ERP systems.
While Netsuite comes with its own CRM tool, it is not as efficient as Salesforce, and hence an integration between NetSuite and Salesforce becomes useful for companies that have already been using NetSuite.
NetSuite compliments the features of Salesforce by providing a real-time, centralized business management platform. It's industry-specific features, targeting the retail, manufacturing, and E-Commerce industries provide opportunities for scalable growth.
Oracle EBS
Oracle E-Business Suite is a set of Oracle Applications that focus on enterprise resource planning, supply chain management, and customer relationship management.
While these three elements form the core of the suite, it is also further developed to accommodate human resource management, asset lifecycle management, procurement, and manufacturing.
Integration between Salesforce and Oracle EBS can help companies manage their customer information, financials, human resource, assets, all in one place without having to worry about data duplication.
It is advisable to seek help from consultants before carrying out a Salesforce-ERP integration as it is a complex process.
Drupal
Drupal is a free and open-source web content management framework that is used by bloggers, corporate, political, and government organizations alike.
It is especially beneficial for companies that work heavily on content, and for companies that have complex or large websites.
Real-time integration between Drupal and Salesforce will enable you to provide enhanced customer support, better lead response, and even to better understand your target audiences.
InsideView
InsideView is a SaaS tool that enables you to discover new markets, identify potential buyers, and engage with the right prospects.
It is a sales and marketing intelligence tool that provides you with reliable B2B company and contact data. This data is curated from multiple sources, and hence is compared from each source and then provided to you.
When Salesforce is integrated with InsideView, the market study becomes more insightful. With this, the campaigns, brand management, and lead generation strategies can become more focused and result-oriented rather than research-oriented.
Geopointe
Geopointe is a native Salesforce AppExchange application that enables location-based customer identification. It has features like heat maps, demographic layers, and geographic search and analysis.
These features make it extremely easy for sales teams to carry out territory planning and analysis. Integrating Salesforce with Geopointe will help you in better data visualization, thereby improving the identification of the target audience and also improving customer support.
Workday
Workday is a cloud-based software that specializes in Human Capital Management with features like time tracking, payroll management, talent management, data analysis, and most importantly, Human Resource Management.
Workday is a highly scalable tool that is used by SMEs and Fortune 50 enterprises alike from varied industries like healthcare, E-Commerce, retail, manufacturing, and more.
A Salesforce integration with WorkDay can provide a solution to the two most critical challenges as a company, that is, Customer Relationship Management and Workforce Management.
These are some of the most common apps that can be integrated with Salesforce to achieve business intelligence. However, Salesforce Integrations can sometimes prove to be complex and exasperating.
Cloudiate is a team of Salesforce developers and consultants who can make your lives easier by providing complete assistance and support to carry out the integrations in a cost-effective yet timely manner. For more information, you can write to us at info@cloudiate.com or get in touch here, and we will be happy to help you out.