The year 2020 has been kind to the SaaS industry in unexpected ways. Despite the gloom in the world of business, there has been a sharp uptick in the number of companies switching to the cloud. With businesses looking to adopt cloud technology, Salesforce is a popular choice, and the role of Salesforce Consultants is becoming paramount.
But before we discuss the importance of salesforce consultants, it's vital to understand the current market scenario. The COVID-19 crisis has given business leaders food for thought about the need for ensuring business continuity in the face of unexpected global disruptions.
According to PWC, there was a 37% increase in the number of businesses switching to the cloud in the first quarter of 2020, compared to a year earlier. That's not all. As budgets grow tighter, the cost advantage of SaaS is also becoming a highly attractive factor.
However, it is not yet time for SaaS companies to celebrate. The pandemic has also triggered a wave of cost optimization and process consolidation across almost every industry. Many businesses are questioning why they should continue using SaaS applications with high time-to-value or poor plug-and-play functionality. Now SaaS companies need to provide convincing answers or risk customer attrition.
Retention is a Function of Customer Value – How Salesforce Consultants can Help Here?
While most customers accept that it is normal for problems to arise while using an app, a lack of prompt customer support is often a major disappointment. Over time, this manifests in low product usage. Eventually, the customer is likely to termite a subscription altogether to save money.
Wait! Before you decide to cut your product's prices to retain customers, you should look at whether your product is really meeting the needs of your customers.
Remember, features can be replicated and so can be pricing. The one thing that can really set you apart from the competition and help you turn your customers into loyal brand advocates is listening to customer feedback and acting on it.
From the customer's point of view, your product may even be a good value for money. However, if it does not work well with the hundreds of other apps used by the average company, it is a part of the problem called: data fragmentation. Virtually, every business out there – from banks to e-commerce companies – is looking to unify customer data to provide a superior user experience that is standard across the various touchpoints.
If you are already a Salesforce user, you are certainly on the right track. It is an excellent platform for boosting retention through real-time data, whether through automated surveys, instant feedback analysis, or targeted follow-ups with customers most likely to switch.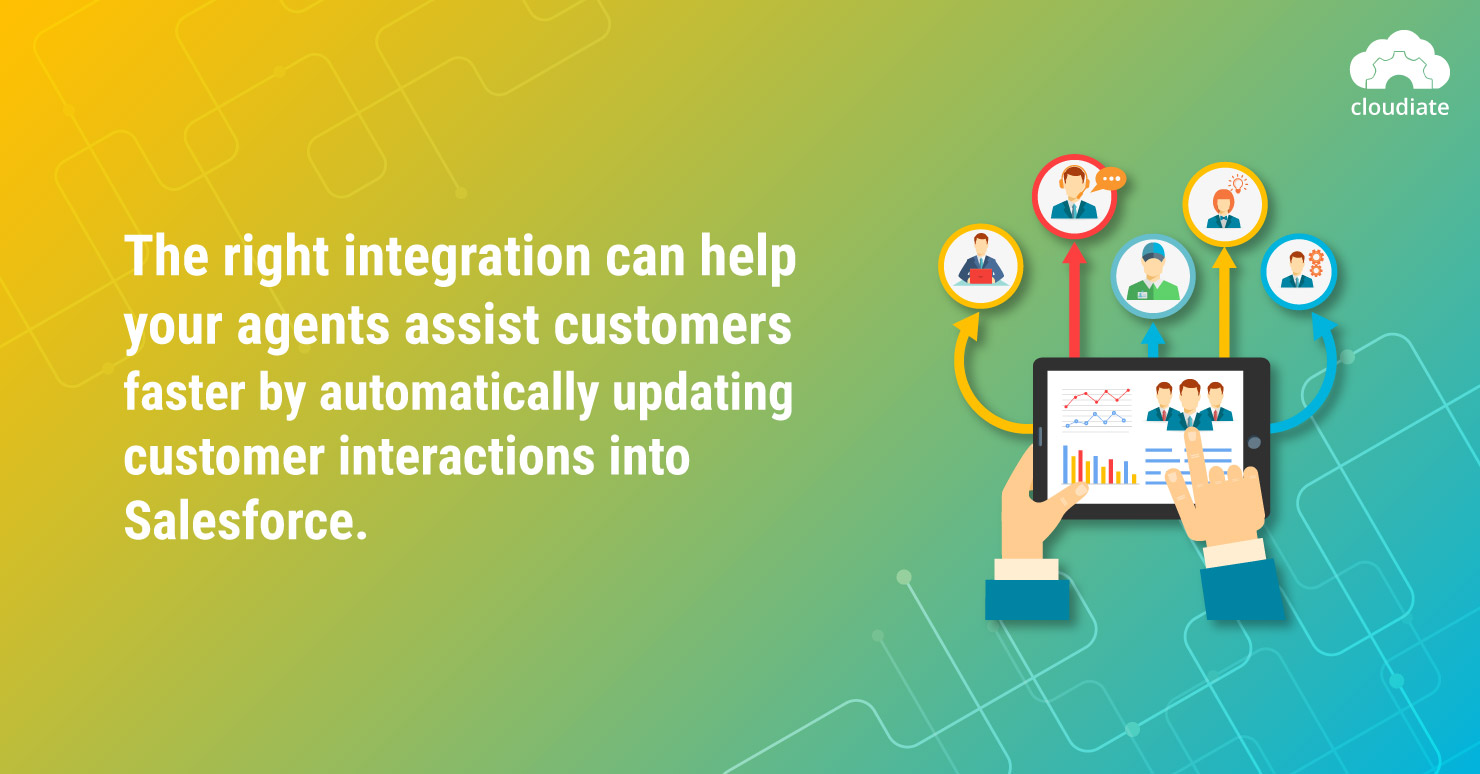 However, a lot depends on how well your customer service app and feedback management apps are integrated with Salesforce. After all, the right integration can help your agents assist customers faster by automatically updating customer interactions into Salesforce. It also enables you to track survey responses in real-time and quickly share the insights gathered with your diverse departments.
What's more, you can also create real-time dashboards that can gauge the reasons behind a drop in customer lifetime value. Finally, you can also get granular data on the factors contributing the most to customer complaints or refund requests.
A well-designed Salesforce integration can help you take immediate action to improve retention. For example, you can set up a workflow to generate an automatic feedback form if a customer fails to renew a product subscription or asks for a refund.
How a Salesforce Consultant Can Help You Make the Best of Salesforce
Failing to plan (an app integration) is planning to fail.
A successful integration makes it easier for your customer service agents to follow up with customers who are on the verge of canceling their subscription. While you cannot possibly retain every customer, it is certainly possible to improve your follow-up time and personalize your communication based on the feedback you may have received. This can help you close the gap between expected attrition and actual attrition significantly.
Secondly, you may be able to reduce the number of negative reviews, at least to a certain extent.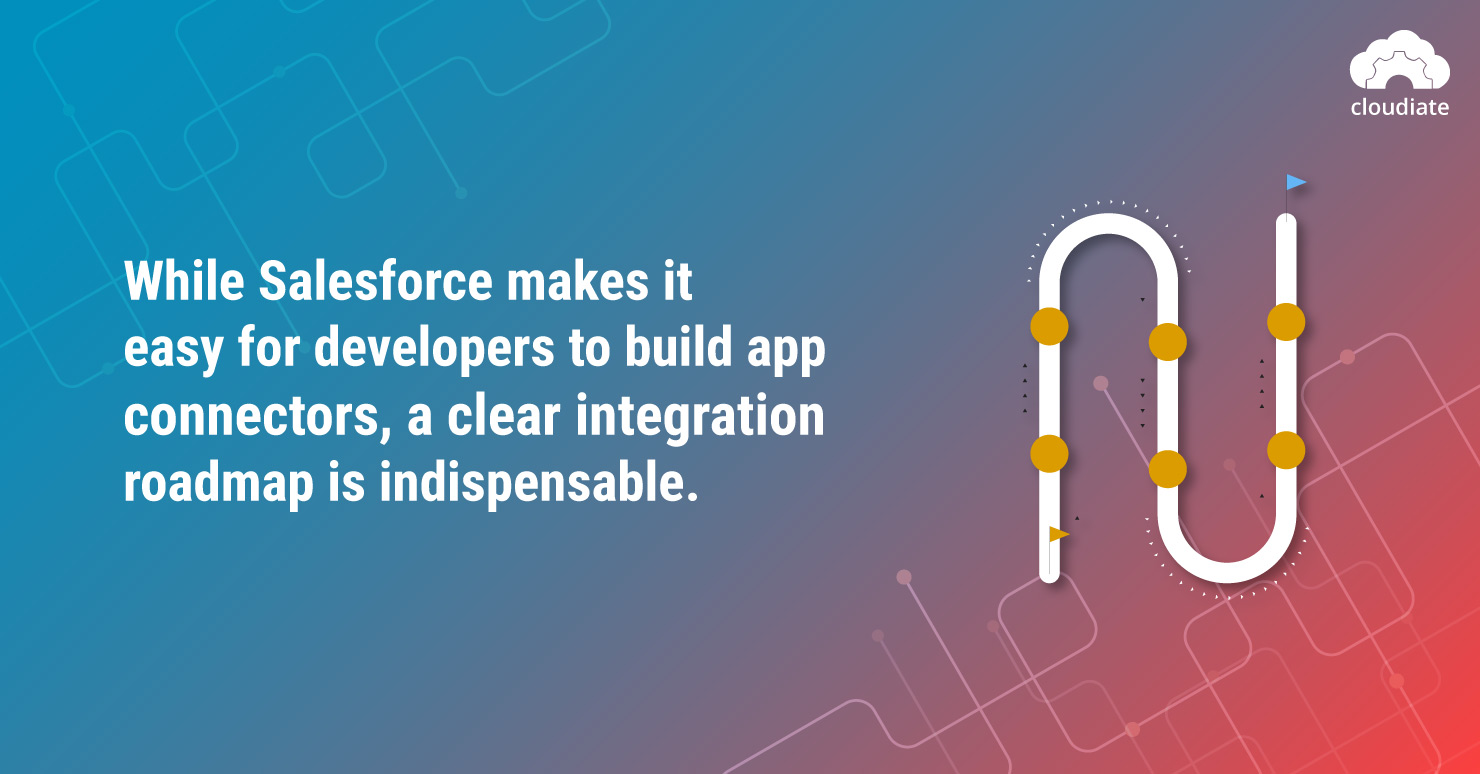 App integration is a multi-disciplinary process, not least because it impacts several departments and KPIs that are vital for business growth. While Salesforce makes it easy for developers to build app connectors, a clear integration roadmap is indispensable. Diving headfirst into integration without being clear about the use case can result in data bottlenecks that could take weeks or months to resolve.
A professional Salesforce consultant can be an invaluable resource in helping you visualize and implement your app integration. They can help you save time on executing the integration and avoid its pitfalls.
Let's dig deep to find out how:
Business requirements planning
Sales, marketing, customer support – your retention strategy will require the participation of more than one of your teams. This means you will need to map the existing data points, identify their respective owners, and create a new integration workflow that ensures optimal distribution across the business platform.
Here are a few questions to consider during this stage:
Which data is necessary for the integration to work, what is its structure, how is it to be processed and stored.
Which data is to be updated in real-time across one or more apps.
Business case definition:
A Salesforce Consultant can help you critically evaluate the business outcomes of a planned integration. For example, you may want to:
Streamline business processes to improve feedback collection and process mapping.
Enable teams to access data in real-time and enable efficient follow-ups with agents having access to complete historical interaction history.
Workflow design:
At this stage, the focus needs to be on user experience and data quality. Here, a Salesforce consultant can:
Help you study the integration protocols for various apps and better understand their data authorization sequences that affect the data flow.
Enable you to create accurate documentation and create Standard Operating Procedures (SOPs) to minimize testing and deployment time.
Salesforce integration and support can be time-consuming and complicated. Salesforce integrations are 80% strategy and 20% execution. With Cloudiate, an industry-leading Salesforce Consultant, you can upgrade your business workflows in a cost-effective and scalable manner, giving your customers an exceptional experience. To know more about how we can help your business, drop an email at info@cloudiate.com and we will get back to you ASAP.