Have you ever wondered what the differences are between Salesforce Services Cloud and Sales Cloud?
Salesforce offers a suite of powerful cloud-based tools that help businesses grow and streamline their sales processes. Among these tools, Sales Cloud and Salesforce Services Cloud provide different solutions to varied customer problems. Sales Cloud focuses on automating the sales process, while Salesforce Services Cloud offers customer service solutions such as ticketing, contact management & more.
To understand the differences between these two services, we must first know how they both perform differently and how they can be implemented to best suit a business's individual needs.
With this in mind, let's analyse the differences between Salesforce Services Cloud and Sales Cloud.
Key Differences Between Salesforce Services and Sales Clouds
Salesforce offers many robust solutions to help businesses manage their customer relationships. Salesforce Services Cloud and Sales Cloud are popular solutions designed to provide businesses with the ability to track, store, and analyze customer data.
However, each solution has unique features that offer different levels of customization for companies. For example:
Sales Cloud is revolutionizing how sales representatives and managers manage their accounts and pipelines. This innovative tool gives them the support they need to acquire new accounts, effectively manage their current channels, and close deals with accuracy and precision.
It provides invaluable insights into customer behavior, enabling them to quickly identify opportunities and make informed decisions. Sales Cloud is a handy tool transforming how businesses operate today.
Salesforce Services Cloud provides a powerful, comprehensive suite of tools to help out service agents and managers alike. With features such as automated ticketing, customer insights, and analytics, Salesforce Services Cloud helps customer service departments streamline their operations and provide a better experience for customers.
With its intuitive interface and powerful features, Salesforce Services Cloud is the perfect solution for improving customer service experiences.
Unique Features of Salesforce Services Cloud and Sales Cloud
The Sales and Service Clouds provide their users with various capabilities that may assist organizations in managing their many accounts, contacts, and cases, among other things.
The special functions of the two clouds  include the following:
Management of accounts and communications
case management system
Service Cloud provides robust CRM tools to help companies manage customer service and support. At the same time, Sales Cloud is designed primarily for sales teams, offering intuitive ways to track leads, close deals faster, and access analytics insights.
Ultimately, the distinguishing characteristics of each platform enable organizations to maximize their efficiency while delivering an enhanced user experience. Here are some of the unique features of these two.
Vital Features of Sales Cloud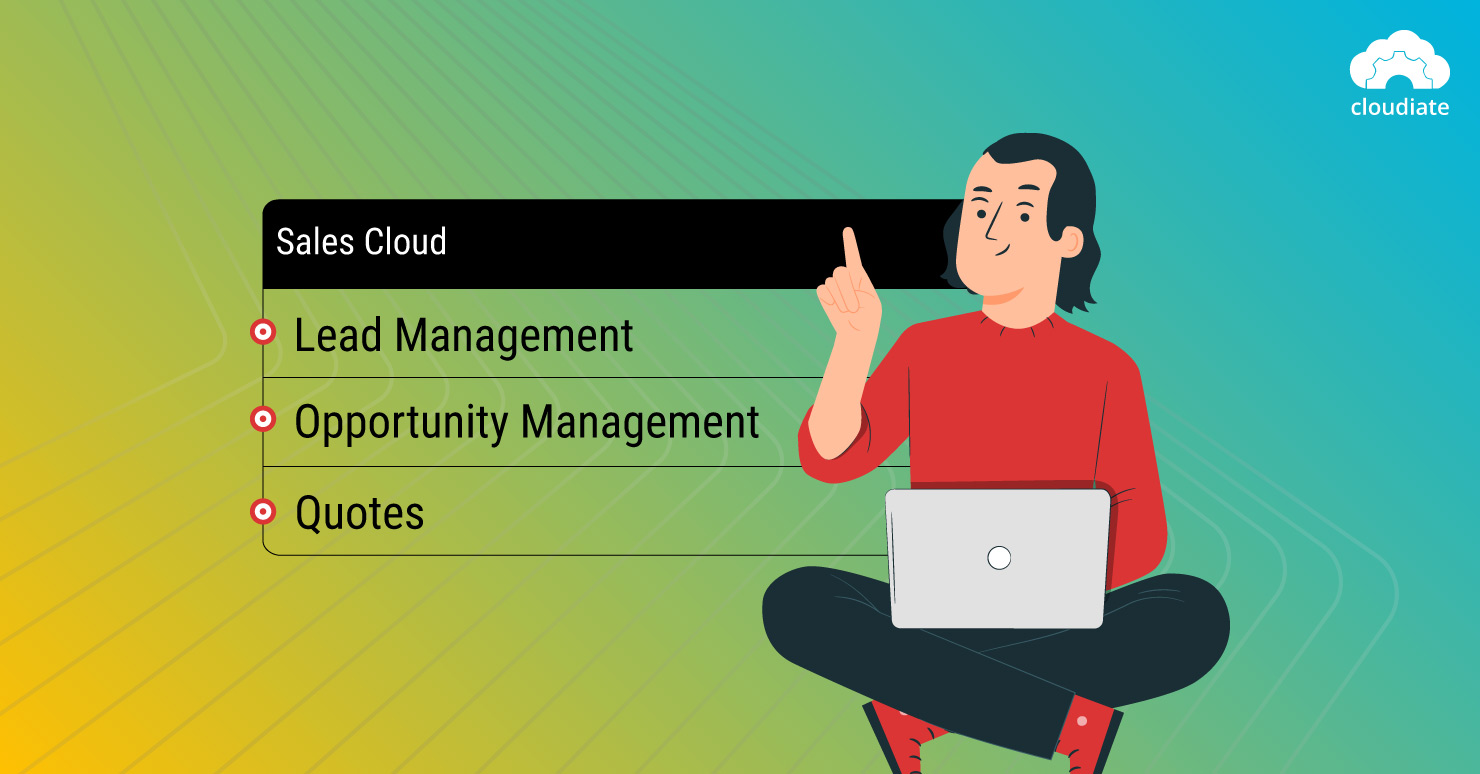 The following are the three critical features of Sales Cloud that set it apart from Salesforce Services Cloud.
1. Lead Management
Lead management is an integral part of any successful sales team. Sales Cloud offers a comprehensive suite of tools to help nurture prospects and capture leads. With Lead Assignment Rules, Auto-Routing, Lead Scoring, and other features, Sales Cloud helps sales teams manage their information and maximize their success.
2. Opportunity Management
Sales Cloud is revolutionizing how sales teams manage their sales pipeline and forecasting. The Opportunity Management feature helps teams to efficiently organize and manage the entire sales cycle, from Stages to Forecasting. With this automated tool, teams can easily track progress, identify bottlenecks, and make accurate predictions about future results.
3. Quotes
You can easily create and manage quotes for products and services with Salesforce quotes, offering detailed insights into your customer's needs. These powerful tools help you quickly generate accurate quotes tailored to the customer's requirement, allowing you to maximize revenue.
Linking your quotes and opportunities together provides an incredibly efficient way to keep track of items and changes. This allows you to easily view your quotes on the Quotes tab, ensuring everything is up to date in one place.
Salesforce Services Cloud: Some Outstanding Features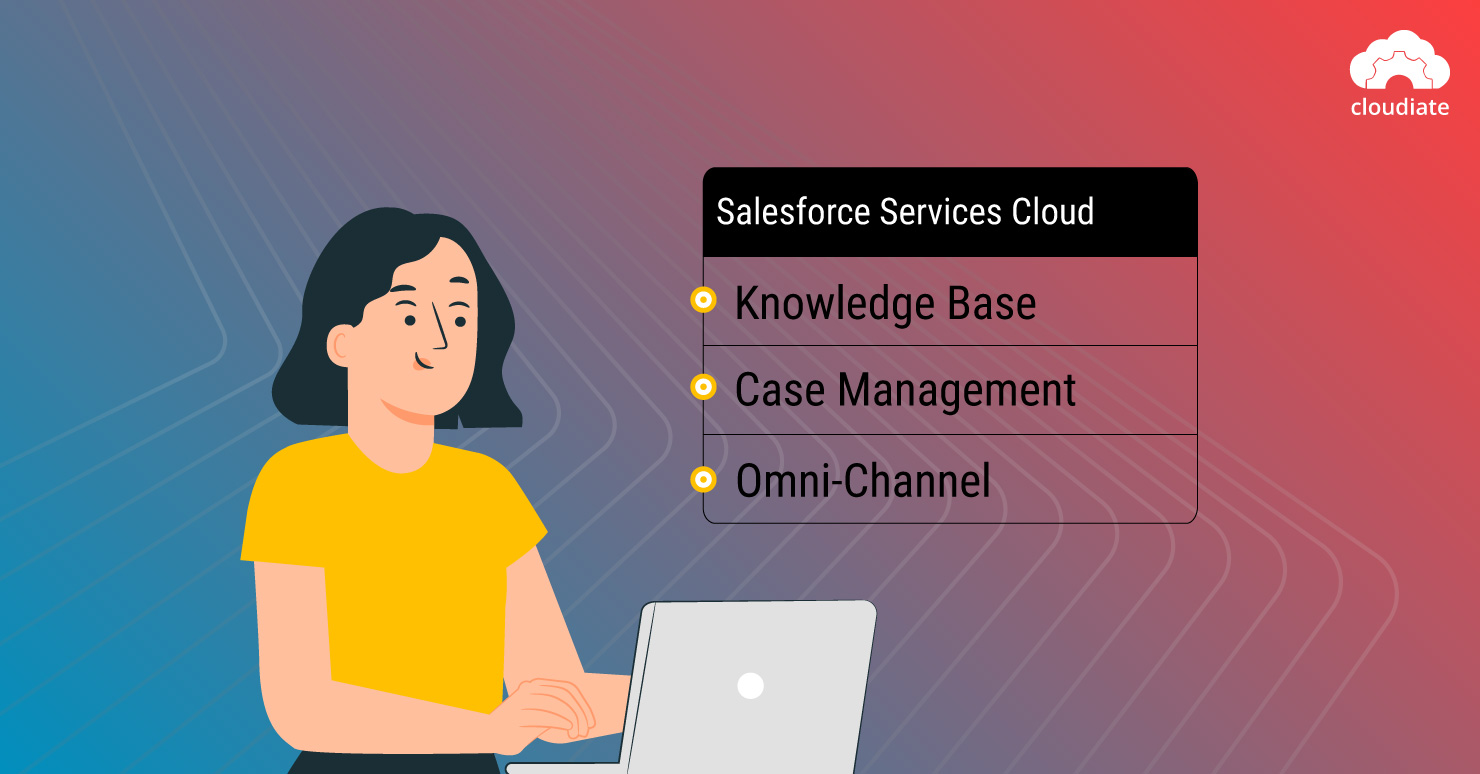 Salesforce Services Cloud offers three key features that make it unique and a valuable tool for businesses.
1. Knowledge Base
Salesforce Services Cloud's Knowledge Base is a powerful tool that can help customer service agents quickly and easily answer customer queries. It provides a centralized repository of information that agents can access to find the answers they need to deliver better, faster customer service. This solution helps make customer service more efficient and cost-effective for businesses, leading to improved customer satisfaction.
2. Case Management
Salesforce Services Cloud is designed for service agents and managers, with crucial functionality focused on customer service. The platform includes robust case management features, including Case Assignment Rules, Escalation Rules, and Case Management dashboards.
Case Management tool has been designed to meet the needs of service agents and managers alike, facilitating faster and more efficient customer service. The platform has powerful case management features that streamline processes, such as Case Assignment Rules, Escalation Rules, etc. It also includes advanced analytics to help gain real-time insights
3. Omni-Channel
Omni-Channel Service Console provides a unified interface that lets agents quickly and easily access the information they need to complete their tasks. It is designed to streamline workflow and enhance productivity, enabling agents to work more efficiently while providing better customer service.
With its customizable layout and intuitive design, the Service Console makes it easy for agents to stay organized and reduce their time on each task.
Which One To Pick: Salesforce Services or Sales Clouds?
Sales Cloud is designed for sales teams, providing tools for lead management, opportunity management, and account management. Salesforce Services Cloud, on the other hand, is intended for service teams, providing robust case management features, a service console, and a knowledge base.
Both clouds are built on the Salesforce platform and share some core features but are also unique in their way. Ultimately, the choice between Sales Cloud and Salesforce Services Cloud depends on the specific needs of your business.
Cloudiate is Here to Help
A Salesforce CRM is a great tool to increase business productivity and improve customer relationships. Hiring a Salesforce consultant to assist with its management is strongly recommended to unlock its full potential and ensure you're getting the best return on your investment. Doing so can help prevent costly errors that could arise from mismanagement.
Cloudiate stands out as a Salesforce Implementation Partner that you can always count on. We'll help you make the most of the Salesforce platform and efficiently take care of your implementation needs.
On top of that, we also provide exceptional training and support for your organization's growth. Finding the right consulting partner is essential when looking for CRM help, app building & sourcing, and customized solutions. Don't overlook ongoing training & support, as it can be just as vital!
Contact us today!