IBM's State of Salesforce report states that 63% of the best companies outsource Salesforce management to salesforce CRM consulting partners. This is because Salesforce consulting partners bring technical know-how, problem-solving skills, and a proactive approach to the table. This way, businesses benefit from responsive and agile systems.
So, if you're onboarding a consultant, hiring the most suitable partner is crucial. They can help you meet your business needs while helping you make the most of the Salesforce CRM platform.
When hiring Salesforce consulting partners and evaluating their suitability, you must consider the following services. But before that, let us clear the basics.
What Is Salesforce CRM Consulting?
Salesforce CRM consulting is a service that involves helping businesses implement and optimize the CRM platform.
A Salesforce Partner provides training and support to ensure users get the most out of the Salesforce platform and its capabilities. They may also help with data migration, app integration, business process optimization, and more.
Since Salesforce is a complex software to navigate, DIY-ing it, in many cases, is counterproductive. Therefore it is recommended to find the right partner to help streamline your operations and improve customer relationships to ensure efficiency, productivity, and revenue.
Prioritize These 4 Salesforce CRM Consulting Services 
As a business owner, choosing a consulting partner who can help you make the most of the platform and get the best ROI is essential. But how do you know which services to look for?
We have compiled a list of key services that a Salesforce CRM consultant should offer.
1. Salesforce Implementation
Salesforce implementation refers to setting up and configuring Salesforce to meet the specific needs of a business. This typically involves creating custom objects and fields, configuring layouts and workflows, and integrating Salesforce with other systems.
Its implementation is challenging since it requires technical expertise, business acumen, human resources, and time. If you lack these resources, you might end up with choppy business processes, negatively impacting your deliverables and operational efficiency.
Instead, invest in a consulting partner who'll help you with Salesforce implementation in the following ways:
Strategy: They'll help you understand your business goals and objectives and create a plan to meet your needs.
Configuration: A consulting partner can help you set up and configure Salesforce, such as creating custom objects, fields and integrating with other systems.
Data migration: If you are switching to Salesforce from another CRM or database, a consulting company will help you migrate your data and ensure a smooth transition.
Customization: They'll help you with Salesforce customization, such as creating custom apps and integrations.
Ongoing support: An excellent consulting partner should provide ongoing support to help you get the most out of Salesforce and address any issues that may arise.
2. Training and Support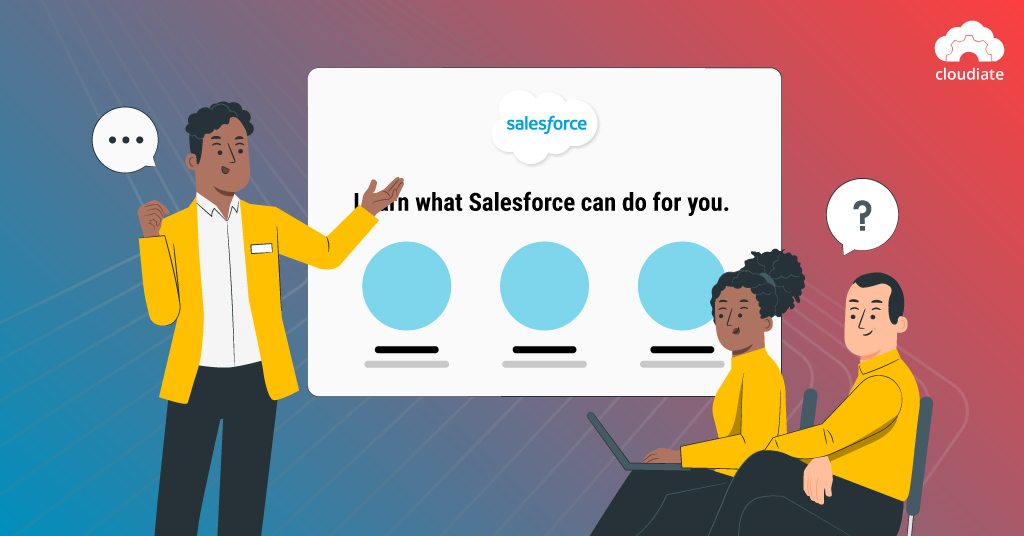 There may be some issues that users will need help with even after the consulting company has completed their work. While they may provide you with documentation, it's best when employees get proper training and support.
So, look for a Salesforce CRM consulting partner who can provide adequate training and support. This may include on-site training, online resources, and ongoing support as you continue to use the platform.
This way, you'll avoid common pitfalls and increase user adoption—ultimately resulting in a higher return on investment for the business.
3. Salesforce Development
Salesforce development refers to building custom solutions on the Salesforce platform using Apex, Salesforce's programming language, and other tools and technologies.
Some common examples of Salesforce development projects include:
Integrations: It refers to the integration of Salesforce with other systems such as HR systems, marketing tools, financial software, etc.
Custom solutions: It includes building custom solutions such as app development through Apex.
Maintenance and updates: A suitable consulting partner will maintain and update existing custom solutions to ensure they continue to meet the needs of the business.
While it is technically possible for businesses to DIY Salesforce development, working with a development partner will bring expertise, efficiency, and support that may not be possible with an in-house team.
Moreover, building custom solutions on the Salesforce platform can be time-consuming and resource-intensive. By working with a development partner, businesses can free up their time and resources to focus on other priorities.
4. AppExchange Consulting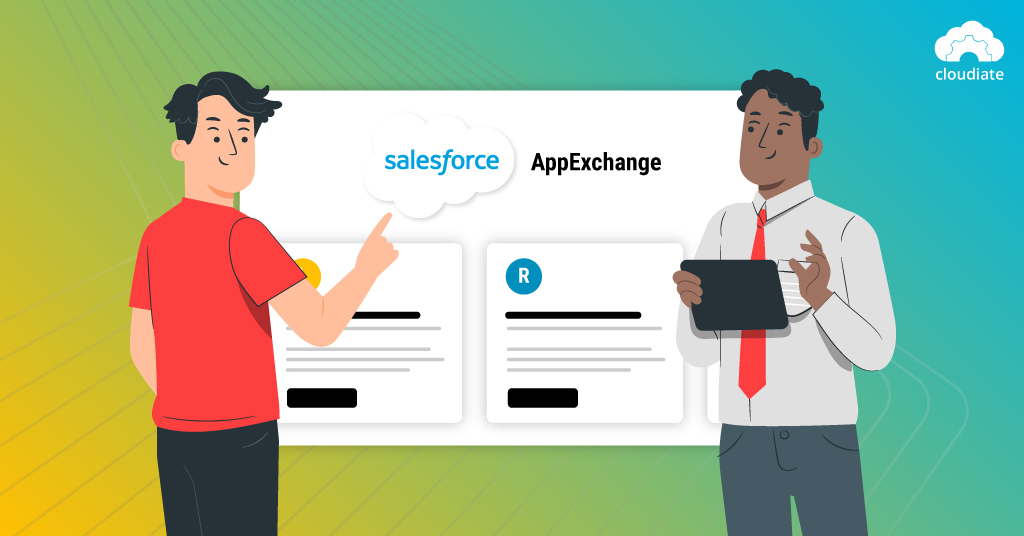 Salesforce offers users a marketplace for Salesforce apps and integrations—known as Salesforce AppExchange. It's a place for businesses to find and install pre-built solutions that extend the functionality of Salesforce and help them automate their business processes.
Look for Salesforce CRM consulting partners who offer AppExchange consulting. Primarily, it includes building and distributing apps. Additionally, it may also include the following services:
App consultation: In addition to app development, a good salesforce consultant will provide guidance and recommendations on which apps and integrations are best suited for a business's needs.
App installation and configuration: It includes helping businesses install and configure apps and integrations from the AppExchange.
App maintenance and updates: It comprises ongoing support and maintenance for apps and integrations to ensure they continue to work correctly.
Overall, AppExchange services help businesses find and implement solutions that help them streamline their operations and improve customer relationships.
Parting Notes
Salesforce CRM is an excellent solution for improving business efficiency and customer relationships. But, to get the best ROI and avoid costly mistakes, you'll need a Salesforce consultant to help you manage it.
When selecting a consulting partner, search for a company to help you set up the CRM and build and find apps. They should also offer custom solutions and ongoing training and support.
Cloudiate is a Registered Salesforce Implementation Partner. We can help you get the most value from the Salesforce platform. We'll help you meet your implementation needs and provide you with training and support.
What sets us apart from other partners is that we closely analyze your business requirements to strategize and implement the best plan for you.
If you want a reliable Salesforce partner, then contact us today!