Salesforce is a world-famous versatile Customer Relationship Management (CRM) tool that offers many benefits to businesses of all sizes. Salesforce Services Cloud is a unique offering for customer assistance and relationship management.
It could be part of a larger Salesforce CRM package that would work best for your company as a customer relationship management software solution. It is underlined by Salesforce Customer 360, an integrated platform introduced by Salesforce that is designed to connect various departments and provide an overview of their activities in a single window.
Features Of Salesforce Service Cloud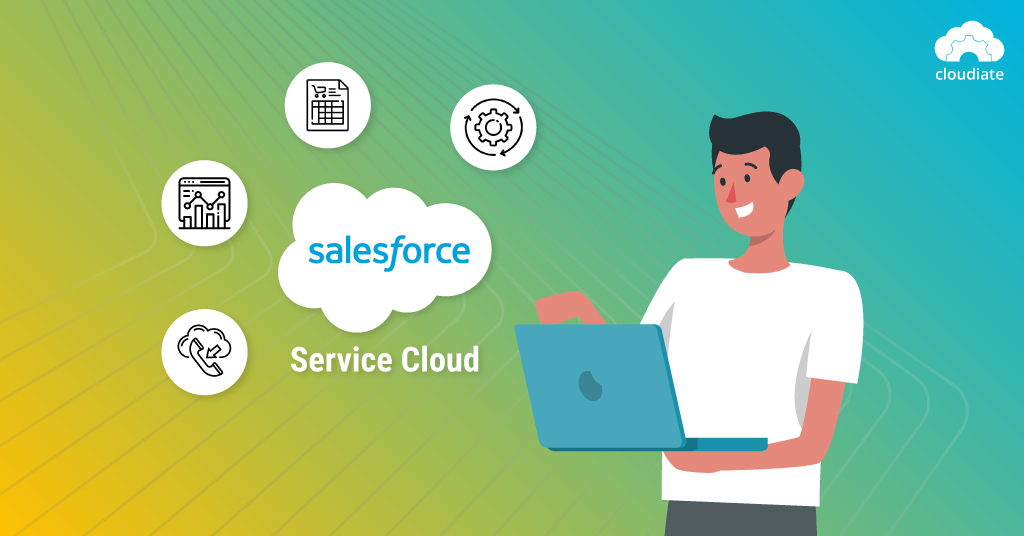 Salesforce Service Could helps your customer service team use service analytics and customized metrics to increase team productivity, automate procedures, and quickly handle escalated situations. The automation capabilities also boost the overall effectiveness of customer service teams.
It includes integrated tools to manage sales orders and assets that need heavy customization.
Moreover, it offers cloud-based telephony services for seamless customer interaction and AI-powered productivity tools to improve the agility of contact center personnel.
Salesforce Service Cloud helps your company set up a self-service assistance center for clients, including simple tools for scheduling appointments, checking account balances, and paying bills. This allows customers to self-serve their most frequent requests, saving them time and effort of getting in touch with support staff while freeing up the staff to tend to more serious customer concerns.
Customers can contact you through many more channels than just email and phone. Salesforce Service Cloud supports digital channels such as social media (WhatsApp), AI-powered live chat via Omni-supervisor, and mobile messaging (SMS). It can intelligently integrate customer support requests from all these channels into a single ticketing system convenient for the support staff to manage.
Lastly, it also comes with a Field Service solution that improves the effectiveness of your field agents and expands the range of services they offer by integrating mobile technology, providing AI-driven onsite technical help, and allowing them to assist customers via remote support.
Where Can You Use the Service Cloud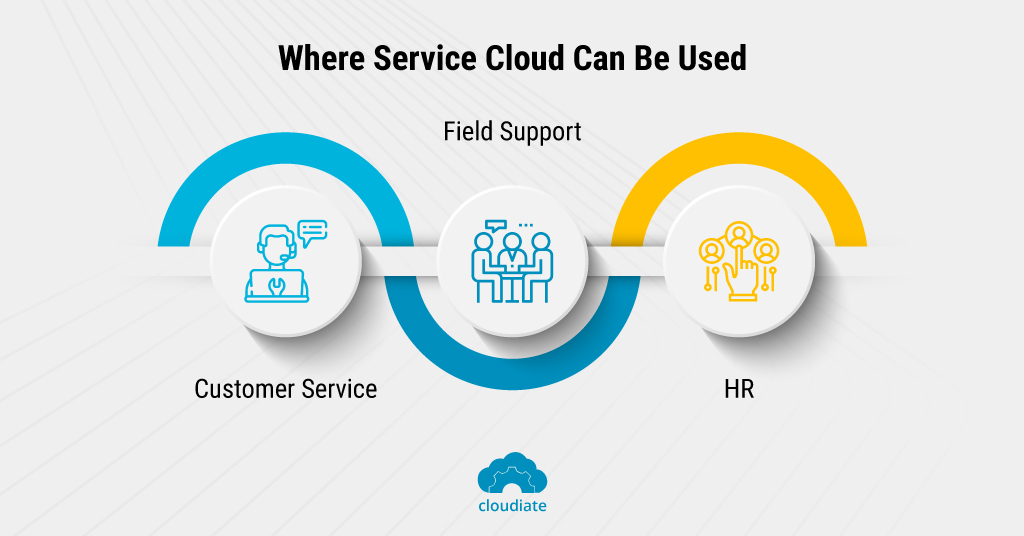 The most effective use of Salesforce Service Cloud is within the customer service arm of your business. However, it can also be leveraged to take your sales and human resources (HR) employees to the next level.
Customer Service 
The customer support team can benefit from Salesforce Service Cloud. Customer service representatives may use it in several ways to boost productivity. They may lessen their workload by assigning the most common, repetitive jobs to Salesforce Service Cloud's Einstein AI, which will deliver those tasks efficiently via automated processes.
By combining all customer service inquiries from various communication channels—phone, chat, email, social media, etc.—into one set of tickets, Salesforce Service Cloud further improves agent productivity. These tickets are then automatically forwarded to the appropriate agent based on the ticket's priority and the agent's area of expertise and knowledge.
Customer service managers can access data-rich, intelligent dashboards which are updated in real-time to quickly and easily determine the strengths and weaknesses of their team. The data can be mined further for analytics, thanks to AI-powered tools, helping upper management identify pain areas that need coaching and improvement.
Field Support
Salesforce Service Cloud also offers support for field agents. Customers and field agents may schedule distant service appointments and support meetings online through Salesforce Service Cloud, which reduces travel time and speeds up service.
Similar to how it handles support issues, it also leverages its AI-driven automation system to send assignments to agents based on the issue's priority and the proficiency of the field agent.
Human Resources
Salesforce Service Cloud is primarily a CRM sub-product targeted for customer service, but it may also be used for some general HR tasks. While the feature set is similar, it can be customized to meet the needs of internal company staff rather than external clients. An employee self-service portal designed using Salesforce Service Cloud features the same AI assistant as the customer-facing portal. The employee ticket management system can automatically allocate tickets to the appropriate HR professional based on the severity of the request to relevant HR sub-departments.
Service Cloud Is Critical to Your Business
According to a 2020 study by investpro.com, the likelihood of selling to an existing customer is 60-70%, while selling to a new customer is 5%-20%. Hence it is imperative to retain old customers for continued business growth, and the best way to do that is to provide excellent customer service so there is no room for complaints.
According to a Zendesk survey, respondents who had negative customer service interactions with a firm were 50% more likely to post it on social media than those who walked away with a worthwhile support experience.
The same poll examined how service affected consumers' inclination to buy. After receiving good customer service, 42% of customers said they made more purchases, while 52% said they wouldn't do business with the company again.
Service Cloud has unique in-built tools and technologies such as Automatic duplicate ticket merging, Integrated multi-channel service, AI-driven customer service and Cloud-based VoIP that make it easier for your customer care team to deliver consistently excellent support experiences.
In conclusion, Salesforce Service Cloud is arguably the swiss-army knife of CRM as it provides cutting-edge features to supercharge your customer support team while being heavily customizable to allow for internal usage and derive maximum value. It is a wholly cloud-based solution, so setting it up is no hassle.
When customizing a Salesforce Service Cloud deployment, it can be tricky to come up with a deployment model that suits your business needs.  Hiring a renowned and experienced Salesforce Consultant like Cloudiate can help you ensure the deployed Salesforce Service Cloud is as effective as it can be. Compared to deploying it yourself, which can be an arduous exercise, a Salesforce Consultant can save you time, effort, and money that would otherwise be spent discussing, experimenting, testing and deploying it without guidance. Please read some client testimonials for Cloudiate and learn more about the company here.