Nonprofit organizations provide crucial support to our society by meeting growing service demands and encouraging public participation in their mission-driven work. However, they often face a significant problem: the lack of accurate, timely and specific data for making informed decisions. In today's fast-paced world, the ability to quickly create reports and visualize data is essential for their missions to succeed. This is where a Salesforce Certified Nonprofit Cloud Consultant comes in.
These consultants offer invaluable help to nonprofit organizations looking to leverage data-driven insights in their noble endeavors. Let's explore how a Salesforce Certified Nonprofit Cloud Consultant can assist NGOs in achieving their goals.
Empowering Nonprofits with Data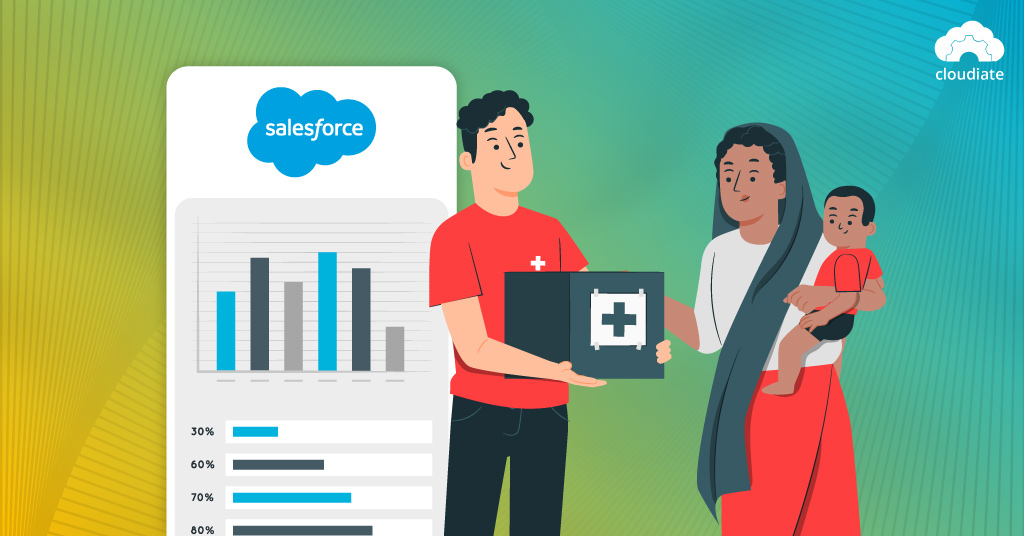 Having accurate and accessible data can lead to impactful decisions that advance the nonprofit's mission.
1. Nonprofit Success Pack (NPSP) 
The Nonprofit Success Pack (NPSP) serves as the foundation for data management in the nonprofit sector. It is designed to turn Salesforce, a leading Customer Relationship Management platform for businesses, into a Constituent Relationship Management (CRM) system tailored for nonprofits.
With NPSP, nonprofits of all sizes and varying levels of technical expertise can leverage data effectively to inform their decisions. NPSP offers a range of prebuilt reports and dashboards, which can be used as-is or customized to meet specific needs. These reports and dashboards provide insights into giving trends, fundraising projections, campaign return on investment (ROI), and more. 
Some notable NPSP reports and dashboards include:
LYBUNT (Last Year, But Unfortunately Not This Year): Identifies past donors who may need encouragement to donate again.
Memberships: Tracks all memberships throughout the organization's history.
10% Projection: Report Provides quick projections based on percentage increases.
2. Marketing Cloud Intelligence 
Marketing Cloud Intelligence unifies data from various marketing channels, such as social media, web, and email, to deliver insights through interactive dashboards. This tool helps nonprofits understand which channels perform best, make data-driven decisions, and maximize their impact with the expertise of a Salesforce Certified Nonprofit Cloud Consultant.
Custom, automated reports enable internal communication across various teams within the organization, allowing for agile and innovative marketing strategies based on data and insights.
3. Tableau 
Tableau is a versatile business intelligence platform known for its ability to turn data from diverse sources into actionable insights. Leveraging the skills of a Salesforce Certified Nonprofit Cloud Consultant can enhance Tableau's effectiveness. Tableau also offers specialized accelerators for nonprofit fundraising and program management, providing actionable data on revenue, donors, service delivery, client enrollment, and more.
4. Tableau CRM 
Tableau CRM, formerly known as Einstein Analytics, integrates tightly with Salesforce to provide automated data discovery, performance recommendations, and predictive analytics. It enables users to take instant actions, collaborate seamlessly, and easily build interactive dashboards.
Incorporating artificial intelligence, Tableau CRM, with the guidance of a Salesforce Certified Nonprofit Cloud Consultant, helps nonprofits spot opportunities, predict outcomes, and gain valuable recommendations for decision-making.
Choosing the Right Tool
Nonprofits have the flexibility to choose the right tool for their specific needs. Depending on their focus and requirements, they can start with basic reports and dashboards, then explore more advanced options like Tableau CRM for AI-driven insights or Tableau for broader business intelligence needs.
Collaborating with a Salesforce Certified Nonprofit Cloud Consultant can help organizations make informed decisions about the most suitable tools for their unique requirements.
Identifying the Need for Digital Transformation
One of the primary indicators that your nonprofit needs Salesforce Certified Nonprofit Cloud Consultant support is when your teams are storing data in disparate places, making it difficult to access critical information.
This siloed approach can hinder collaboration and slow down your organization's efficiency. Salesforce offers a unified platform that enables teams to have a comprehensive view of donor, volunteer, and program data, breaking down data-sharing barriers.
Overcoming Challenges in Digital Transformation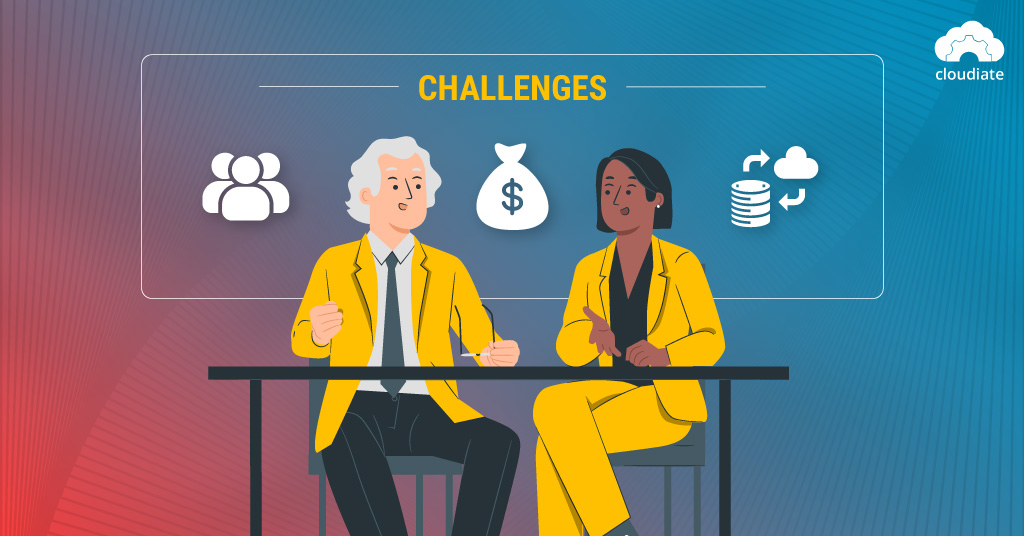 Here is how to mitigate the issues that crop up while undertaking the digital transformation journey:
1. Budget Constraints
Implementing Salesforce may require an initial investment, including hiring a Salesforce Certified Nonprofit Cloud Consultant to set up the system correctly. While some organizations may consider cutting costs by attempting a DIY approach, this often leads to more significant expenses in the long run due to improper configuration and fixes.
Investing in a well-executed Salesforce implementation can save your team time and energy previously spent tracking down data and enable you to allocate resources more efficiently.
2. Human Resources
Simplifying the setup and using standard functionality is advisable to ensure your organization can maintain the system effectively. Salesforce Nonprofit Cloud offers standard options that are invaluable for nonprofits without the budget for a full-time Salesforce administrator or developer.
3. Process Decomposition
Digital transformation may require a re-evaluation of existing processes. You might need to adapt how data is collected and input into the system. A Salesforce Certified Nonprofit Cloud Consultant can help you redesign and optimize processes to align with Salesforce's capabilities.
4. Data Migration
Cleaning and preparing data for import can be time-consuming. Salesforce provides guidance on data cleanup to ensure your data is well-organized and formatted correctly before entering the system.
5. Training 
Effective training is essential to ensure staff members feel comfortable with and are motivated to use the new system. Continuous support and accountability from a Salesforce Certified Nonprofit Cloud Consultant can help your team adapt to the changes brought about by digital transformation.
Expert Tips for NGO Leaders
Allocate a portion of your budget for training and ensure your team understands the basics of Salesforce. Simplicity in training can prevent information overload.
Consider both larger and smaller nonprofit consultancies when selecting a partner for your implementation. Smaller Salesforce consultancies can provide excellent results without the high costs associated with larger firms.
Salesforce Nonprofit Cloud and the guidance of a Salesforce Certified Nonprofit Cloud Consultant can empower your NGO to navigate the challenges of digital transformation successfully. By addressing common pain points, optimizing processes, and leveraging the platform's capabilities, your nonprofit can become more efficient, data-driven, and impactful in achieving its mission.
Salesforce offers valuable support to nonprofits through programs like "Power of Us," providing free licenses and discounts, making it an accessible and powerful tool for your organization's growth and success.
Empower Your Cause with Salesforce Expertise
Nonprofit organizations are leveraging technology to enhance their operations and fulfill their missions more effectively. Salesforce offers powerful solutions tailored to the unique needs of nonprofit organizations.
However, to harness the full potential of Salesforce for nonprofits, it's often beneficial to engage a Salesforce Certified Nonprofit Cloud Consultant.
These professionals bring dedicated knowledge and experience to ensure seamless implementation, user training, and strategic alignment with your NGO's goals.
For expert guidance and support, partner with Cloudiate, your trusted Salesforce Certified Nonprofit Cloud Consultant. Make the most of Salesforce to empower your nonprofit's mission and achieve your goals.
Contact us today!