The financial services industry plays a vital role in the economic development of any nation. Such a sector needs equally sophisticated tools to better customer relationships, enhance efficiency, build accuracy, and make the most of insightful data.
Salesforce financial service cloud is an important part of Salesforce development services. With it, enterprises can save time and money on mundane tasks like collecting vital information while improving accuracy, tailoring views, and managing data.
Moreover, employees can now utilize their potential for more productive activities like business development, which expands their vision, revenue generation, and customer services. This article examines how Salesforce development services can benefit the finance industry.
Salesforce Development Services in the Financial Industry 
In financial services, the flow of information is sensitive and critical. From banking to wealth management, insurance to lending, let's find out how each sector can benefit from Salesforce integration.
Banking 
The banking sector is one of the prominent use cases of Salesforce benefits. The financial service cloud from Salesforce
Provides profound insights into clients' financial needs
Gives a clear picture of business objectives
Allows banks to deliver personalized services that drive customer success
The banking and lending process is made transparent and accessible by tracking and visualizing client relationships and data origins, facilitating handoffs, and enhancing stakeholder collaboration. The Salesforce platform helps banks identify bottlenecks in their processes and automate them, from client onboarding to query resolution, within minutes.
Salesforce's unified interaction solutions extend to various devices and platforms, enabling banks to foster accurate correspondence, insights, accessibility, and deeper customer connections. The bank can also create a sales, marketing, and support strategy that targets the right customers accordingly.
Wealth Management 
Salesforce financial service cloud makes wealth management less complicated than legacy systems which is an essential factor for finance companies. Salesforce's financial cloud empowers businesses to evaluate the risk appetite, expected return, time horizon, and other key metrics for each customer. Thus, they can identify opportunities for upselling or alert customers if they detect financial risks beyond the customers' risk tolerance.
Integrated data means the sales team doesn't have to switch between different systems. In addition to automating mundane tasks and improving connectivity, companies can gain a broader understanding of their customers by using advanced analytical features and multi-device/platform functionality. By developing product packages strategically, companies enable their members to achieve individual and collective financial goals.
Insurance
If you're from the insurance sector and are trying to offer tailored customer experiences enriched with real-time communication, then Salesforce financial service cloud is for you. Besides offering agile services, Salesforce can also help build customer synergies to gain a competitive edge.
Companies can pitch relevant products to policyholders based on a customer synopsis. In addition, it provides user-friendly assistance to the support team. A positive after-sales experience will help companies acquire more customers, boost ticket size, and build a loyal community.
Additionally, insurance companies could use the financial services cloud to manage their contracts. Customer service professionals get real-time feedback and analytics on each policyholder with a 360-degree view.
Lending
The lending sector has different facets, from loan origination to funds disbursal, and the Salesforce financial service cloud can centralize them. Analyzing patterns and identifying future directions can help them see the bigger picture.
Coordinating seamlessly between agents, brokers, and borrowers, Salesforce promotes transparency throughout the entire process. Lenders can gain real-time updates on stakeholders and future developments using predictive intelligence analytics. In light of this, companies can tailor their procedures to maximize ticket sizes, reduce risks and prepare for future upsells.
More Benefits with Salesforce Development Services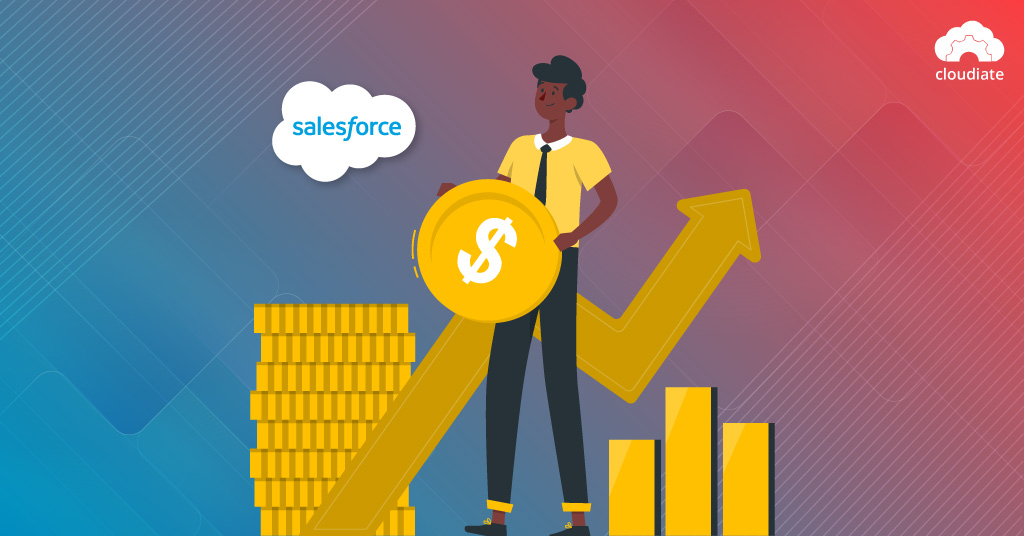 Following our understanding of Salesforce's approach to individual financial segments, let's take a closer look at what Salesforce covers for the entire industry.
1. Building Stronger Relationships with Customers 
Salesforce development services help consultants better understand customers by organizing data into user-friendly models and automating procedures. Client data includes family members, tax accountants, real estate plans, and more.
A broad view allows them to identify potential risks and opportunities, resulting in a favorable partnership. They can personalize their customer communications by selecting the proper channels, formats, and messages according to the customer's preferences, profile, and expectations.
2. Create Real-time Interactions 
Despite their multi-platform/multi-device compatibility, businesses still struggle to provide real-time customer assistance that is efficient and interactive. Data can be viewed and manipulated across different devices with Salesforce cloud's responsive and interactive layout. As a result, advisors can deliver instant customer satisfaction without piling up tasks.
3. Balance Future Actions
It is not uncommon for financial advisors to defer future activities until they forget essential tasks or miss opportunities due to a hectic schedule. Salesforce prevents these problems with innovative and action-intuitive features. Advisors receive notifications about all upcoming events and tasks, which helps them to prioritize in a customized manner.
4. Build an Extensive Data Model
Salesforce financial cloud service has covered an extensive data model which incorporates information from personal goals to liabilities, assets to other financial details under one roof, helping financial advisors make informed decisions in lending or insurance.
 5. Integrate Multiple Data Sources 
The Salesforce platform calculates integral equations based on data from multiple sources. Through various data sources, advisors can identify potential opportunities and facilitate upselling or other modifications to the original transaction.
6. Create A Secure System 
Financial services firms usually have the most stringent security standards. Salesforce financial services cloud offers robust protection and enforcement capabilities. This means that financial services providers always have an extra security layer against any fraudulent activity. Salesforce constantly monitors regulations and laws. Thus, meeting regulatory initiatives is easy for consultants, employees, and financial firms.
Final Thoughts
The finance industry is dynamic and prone to multiple socioeconomic changes, and Salesforce financial cloud is one way to keep up with them. At Cloudiate, we make it our mission to understand your business goals and translate them into Salesforce capabilities that meet your needs. Contact us today and develop fully customized Salesforce solutions!