Imagine sending thousands of rupees to someone and seeing the dreaded 'your payment is stuck, we will confirm the status within 24-48 hours' message! A negative experience like this is precisely why most customers today switch banks or prefer availing of financial services from multiple banks at once.
It is no secret that Digital payments are the future of transactions. According to the Times of India, digital transactions grew roughly 90%, from 232,000 to over 430,000 in the three years. Moreover, from FY19 to FY21, primarily led by UPI, they are projected to grow three-fold in value to touch $1 trillion by FY2026, compared to $300 billion in FY2021.
Salesforce is a powerful tool. Click here to know what exactly Salesforce customization can do for your business.
Risks to traditional banking systems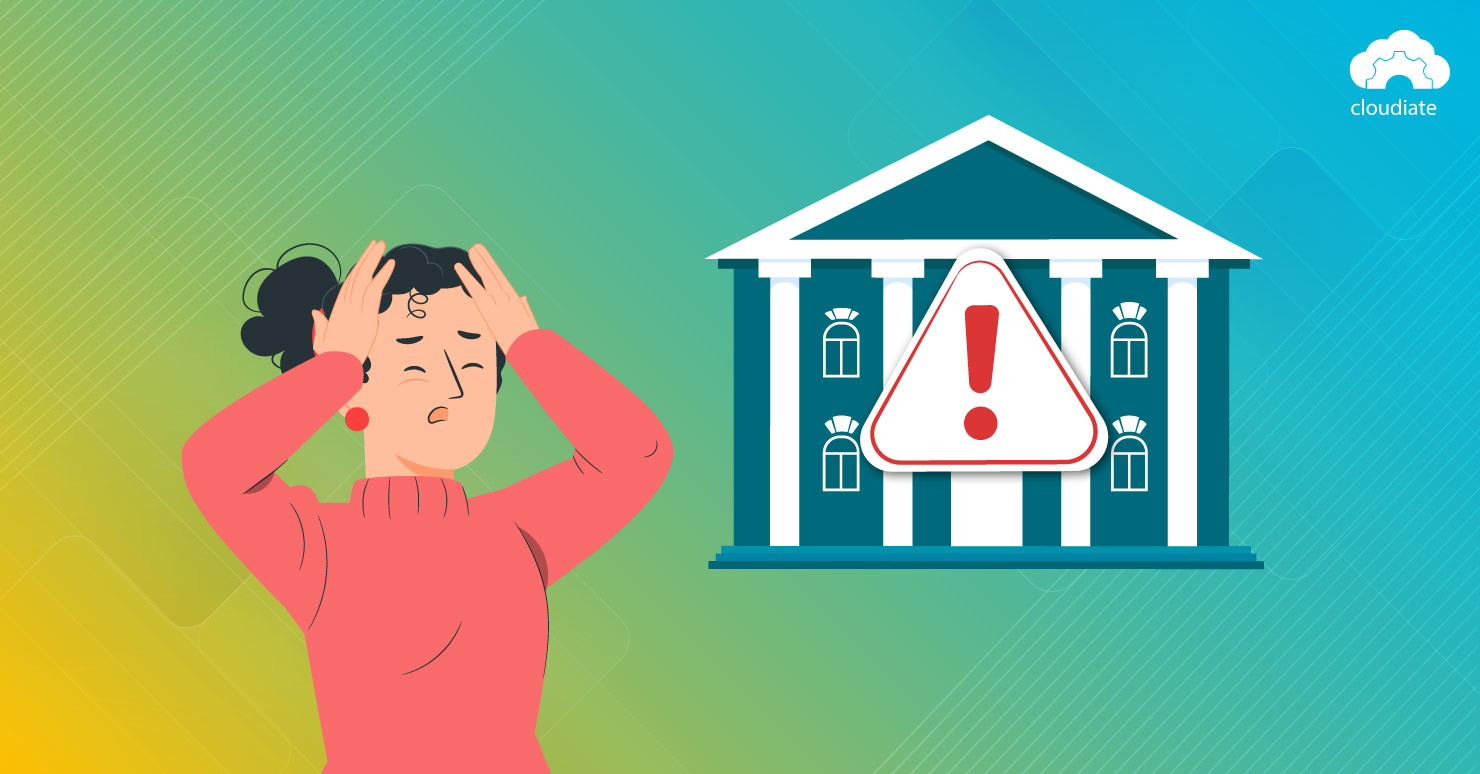 With the increasing levels of choice for the customer comes increasing customer retention risks for banks. According to consulting firm McKinsey, digital channels are now the dominant banking channel worldwide, with 30% to 60% of all banking customers using this channel as their primary one worldwide. Traditional financial organizations can adapt to this change by enhancing their digital relationship with customers using personalization and engagement.
Leveraging a Salesforce CRM (Customer Relationship Management) partner is an effective way to forecast customer needs and meet them before they ever have a chance of leaving your business. You can deliver true customer delight by using one of the world's best CRM tools, which according to Ascendix, is used by 90% of the Fortune 500 companies!
Want to know how to maximize your productivity? Click here to read 10 easy salesforce hacks to supercharge your workflow and output.
Implementing CRM via a Salesforce CRM partner
The implementation of Salesforce demands an active commitment to getting the desired results and benefits. A proactive attitude and technical know-how are required during deployment. Project management difficulties and unrealistic expectations cause 18% to 69% of CRM implementation initiatives to fail. Businesses often must rely on the skills of a Salesforce partner to optimize return on investment.
A Salesforce CRM partner is a company authorized by Salesforce to develop and provide custom solutions and project implementations and integrations.  These businesses have the expertise to drive the innovation phase and support businesses in developing new consumer relationships.
You may have heard of Salesforce consultants, but what do they do, and how to identify a great one? Click here to know more.
Why should you hire a Salesforce CRM partner?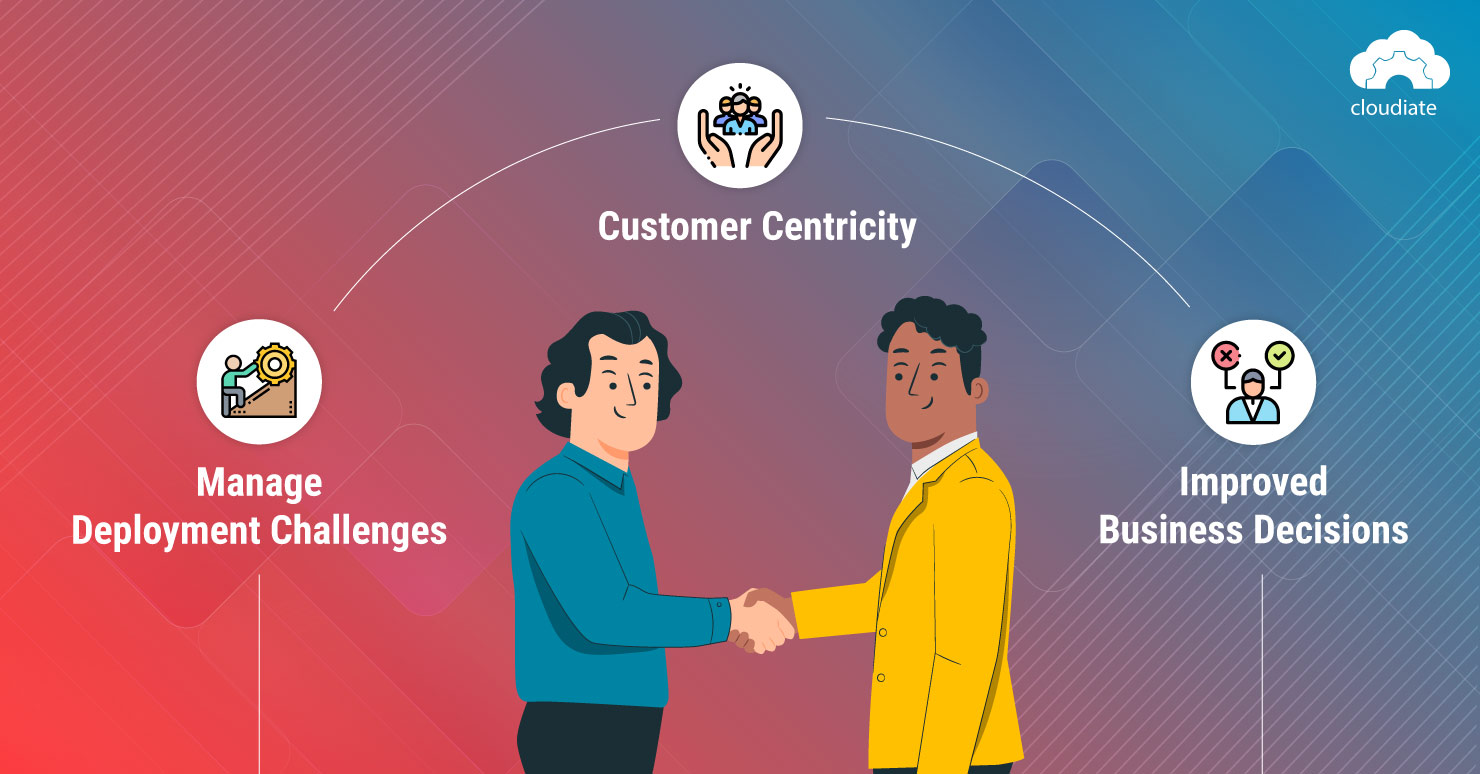 Deploying a CRM tool can be complex and daunting for any organization with no experience or expert employees in this field. This task becomes even more challenging for banking institutions with an ever-increasing number of clients. Instead of hiring employees to deploy and manage CRM tools, it is better to engage a Salesforce CRM partner as they possess the customization capabilities and relevant experience for your specific requirements. Other benefits of hiring a Salesforce CRM partner for banks are listed here:
1. Customer Centricity
The organization and its clients reap the rewards of hiring a Salesforce CRM partner. With the power of the Salesforce family of products, banks can engage customers, predict their needs, generate analytical insights, identify banking trends and comprehensively meet their customer's demands on the fly.
2. Improved Business Decisions
Engaging a Salesforce CRM partner means your business insights will improve. Your goals will be realistic and met as planned. In addition, employee productivity is increased as time spent in redundant operational activities is saved owing to good implementational practices, resulting in more growth opportunities opening up for everyone.
3. Manage Deployment Challenges
When a Salesforce CRM partner is hired, they carry out a specific, customized, and situational diagnosis to identify any roadblocks that might impact implementation. This way, they become equipped to handle any challenges during deployment, even those that might come afterwards.
Why is Salesforce Einstein the next big step in digital transformation? Click here to know more.
Here's how a Salesforce CRM partner can help your bank retain customers
A Salesforce CRM partner can deploy Salesforce Finance CRM for banks to understand existing and potential customers, which can be used to create opportunities to provide customized services to them. In addition, banks can use the collected data to implement creative strategies to improve sales, productivity, and market share.
Salesforce CRM partners can also deploy the Salesforce Lightning platform to massively upgrade the customer support capabilities of the frontline teams to deliver faster solutions to end customers. There are various options, such as Live Chat, Call Support, or E-mail Support. This multi-channel approach unlocks a new level of convenience for customers and increases the retention potential of your business.
There is also an option to set up online community forums with Salesforce Community Cloud, which bank customers can leverage to find real-time answers to their most common queries. This feature is exceptionally potent as it works across various channels and allows customers to self-serve or find support via an advisor. It also helps in reducing the number of angry customers due to long waiting times.
A capable Salesforce CRM partner can also deploy intelligent financial dashboards to supercharge the metrics and tracking experience for everyone, from sales teams to senior leadership. So they can view the high-level progress and performance of their teams and their business verticals.
How can a reliable Salesforce CRM Partner help improve your CX game? Click here to know more.
All these impressive benefits are yours to reap if you choose a reliable, knowledgeable, credible, and certified Salesforce CRM partner. Cloudiate is one such Salesforce CRM partner that offers customized Salesforce deployment solutions for a variety of customers across the globe. With a demonstrated history of servicing clients across various domains, they are experts at rebuilding legacy systems such as banking, insurance, and manufacturing.
Cloudiate is stacked with domain experts and salesforce savants who can understand your requirements and decipher which tools from the Salesforce family can help your business reach its maximum potential. Read their fantastic client testimonials and know more about the company here.