Salesforce Gold Partners are the top tier of partners in the Salesforce ecosystem. They have a deep understanding of Salesforce and are experts in their field. They can help you with anything from strategy to implementation and have a proven track record of success.
The Salesforce Gold Partner program is designed to recognize and reward partners who have demonstrated expertise in delivering solutions on the Salesforce platform. The program recognizes partners who have achieved a high level of success in their business and those who are committed to helping customers succeed with Salesforce products and services.
They hold themselves to high design, delivery, and service excellence standards. Partner benefits like accelerated onboarding and exposure to special events are only a few of the special considerations to differentiate Gold Partners from all other tier partners.
An essential aspect of the gold partnership is that you get access to the great majority of SF partner community resources.
Salesforce Partner Tiers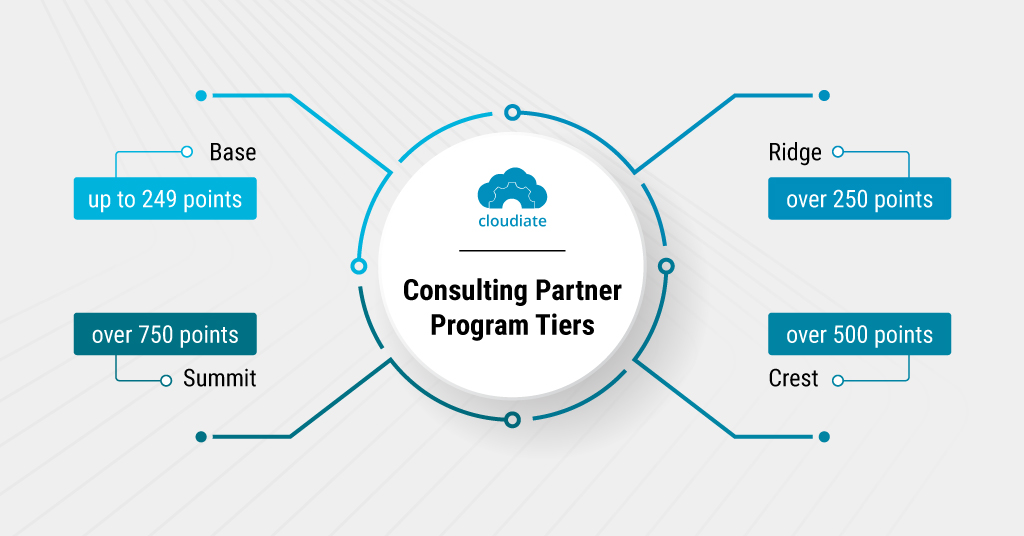 A Salesforce Gold Partner is a designation awarded to suppliers, systems integrators, and partners who've demonstrated the knowledge and partner skills specific to the Salesforce platform. Becoming a Salesforce Gold Partner requires meeting demanding requirements related to how customers utilize the platform in terms of security, scalability, failover, and other factors.
Partner tiers are a way to show how much a partner contributes to the Salesforce ecosystem. The higher the tier, the more benefits they get.
The Salesforce Consulting Partner Program includes four tiers, and partners are categorized according to the following point system:
Base Partners (up to 249 points),
Ridge Partners (over 250 points),
Crest Partners (over 500 points) 
Summit Partners (over 750 points)
These are the four tiers of the partnership. A partner must have at least two Certified Consultants and pay a $1,000 program fee to join the program at the Base level.
Earlier, there were five tiers, which were then known as Registered, Silver, Gold, Platinum, and Global Strategic. Now there are only four partner tiers, as mentioned above.
Salesforce Partner Tiers  Benefits
Base partners are new Salesforce consulting organizations with a score of one hundred points. The following privileges and advantages are available to Ridge, Crest, and Summit partners:
Expanded possibilities for collaboration with Salesforce
Access the overwhelming majority of materials the Salesforce partner community makes available. It's like an endorsement from the company itself.Companies who want to become certified must complete specific training courses and demonstrate proficiency in the following areas: Customization, Administration, Integration, Deployment, Development, Marketing Cloud Applications, and AppExchange Apps.
Salesforce needs partners willing to provide clients with high-quality implementations for their infrastructure projects. Regarding cloud-integrated marketing, platform applications & solutions consultancy, system integration consulting, and more, the "Gold Standard," the Salesforce Gold Partner tier, has some distinguishing characteristics from the other three, making it unique and highly desirable.
The Point System for the Salesforce Partner Program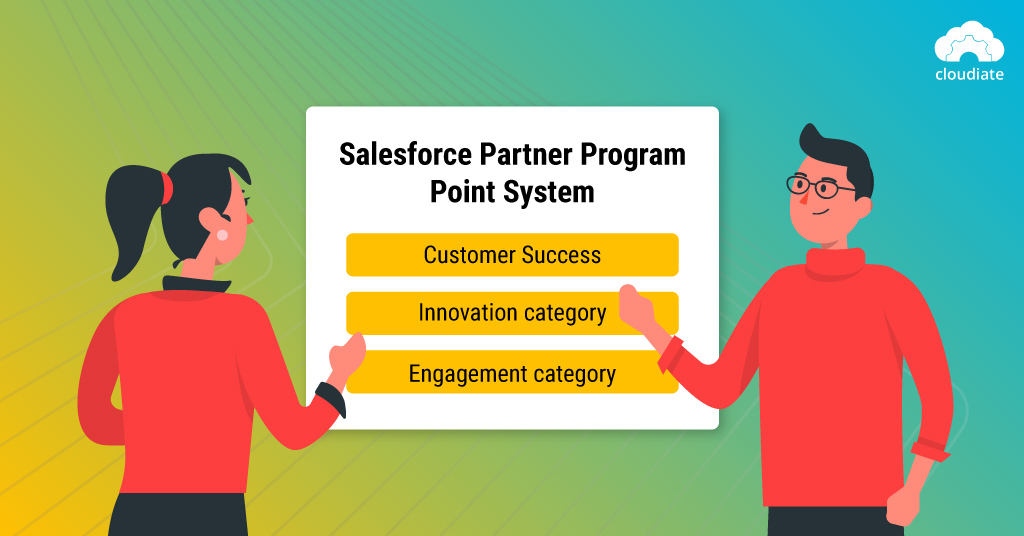 Customer Success, Innovation, and Engagement are the criteria for which Salesforce award program points.
350 points maximum are available in the Customer Success category. Points are provided depending on Customer Satisfaction Scores and the Navigator level of the Partner. The Navigator level of a partner indicates their topic expertise: Level 1, Level 2, or Expert.
Customer satisfaction is the key to a successful business. The higher their satisfaction level, the more likely they will return and buy again. Without them, you have no business.
The Innovation category is about understanding your company's needs and delivering solutions. A maximum of 350 points are available in the Innovation category, and partners are granted points depending on their number of Certified Architects, Developers, and Consultants.
A maximum of 300 points are available in the Engagement category. Points are granted based on ACV of income received by the Partner from new clients or new projects with current customers.
Becoming a Salesforce Gold Partner is challenging and takes time, effort, and resources. However, the benefits of becoming a Salesforce Gold Partner are many. For example, you get access to the latest versions of the platform and tools before everyone else gets them. You also get an early pass to new features and have priority with customer support, among other things.
Salesforce Gold Partners at a Glance
The Consulting Partner Program employs a point system based on the Annual Contract Value (ACV) to measure partner dedication to Salesforce and to provide incentives. Based on this point system, the partners are categorized into four tiers: Base, Ridge, Crest, and Summit Partners.
Globally, Salesforce has a partnership with over 5,000 companies. The partner firm's portfolio of services in Data Management, CRM Consulting, and Implementation Services, as well as Digital Marketing delivery, largely reflect the offerings covered by other types of tier partners. Firms with identified expertise in multiple areas that complement core service offerings may leverage an opportunity to join this level and offer more comprehensive solutions.
A Salesforce Gold Partner is a Salesforce Partner who has achieved high levels of competency in a particular product area or solution expertise. A Salesforce Gold partner receives additional focus on new updates and early access to beta versions of the software, among other things.
Difference Between Salesforce's Gold Partners and Its Other Tier Partners
Salesforce Gold Partner Program is designed for a select group of preferred partners who've mastered the relationship between Salesforce applications and their customer success-driven execution.
This tier offers access to 65% of Salesforce resources, training discounts, and 40% more salesforce contracts. Gold consulting partners must have at least 12 personnel and one accredited consultant, advanced developer, or app builder.
Do I Need a Salesforce Gold Partnership?
If you are looking for the best Salesforce consultancy, you need to choose one with Salesforce Gold. As explained above, the Salesforce Gold is an award given to companies with a certain level of excellence in the Salesforce platform.
Salesforce Gold Partners undergo a rigorous testing process to get certified as a SalesForce Consultant, signifying themselves as Salesforce experts, adept in the Application Integration System, Development best practices, Marketing Cloud platform expertise through Research, Analytics Insight development skills, and training strategies for lead generation using DreamForce.
Cloudiate is an official Salesforce Implementation Partner assisting organizations in optimizing the use of CRM by working across a wide range of industries.
We distinguish ourselves from other Salesforce Partners in that we zero in on the core issue at hand to provide an exclusive, tailor-made solution to the dynamic challenges our customers face.
Get in touch with us to be connected with a member of our team of experts.