When thinking of making the most of Salesforce, many businesses turn to Partners to ensure they get a high investment return. The partners calibrate Salesforce as a perfect troubleshooter for businesses by providing their expertise and knowledge. Companies that embrace the potential of Salesforce can significantly reduce customer dissatisfaction and lead to a surge of growth. It's an incredible partnership that can help companies reach new heights!
Not only will Salesforce Platinum Partnership provide them with expertise, guidance, and the latest tools, but it will also help them to tackle many complicated business problems. Furthermore, it comes with a range of appealing perks.
Today we'll be looking into the rewards and other details of becoming a Salesforce Platinum Partner.
Salesforce Platinum Partners: A Brief Overview
Salesforce offers several different consulting levels. The term "salesforce partners" has been referred to by various titles in the past, including Registered, Silver, Gold, Platinum, and Global Strategic.
The Salesforce Consulting Partner Program was recently updated to four tiers, with partners positioned according to their point totals. They are:
Base Partners (Registered) (up to 249 points)
Crest Partners (Silver) (over 250 points)
Ridge Partners (Gold) (over 500 points), and
Summit Partners (Platinum) (750 points).
To join the program at its Base level, a partner has to have two Certified Consultants and pay a $1,000 program fee.
A Platinum Partner is a partner network that provides technical implementation and customization services for Salesforce. These partners have the experience and expertise to customize Salesforce products and services to meet the needs of their clients. They can also help clients maximize their Annual Contract Value (ACV) by assisting them in getting the most value out of their Salesforce investments. With this network of partners, companies can ensure they have access to the best technical resources available to maximize their success with Salesforce.
With a Platinum Partner on board, businesses can be confident that they have the best tools and resources available for success. Platinum Partners can access exclusive training and resources from Salesforce and specialized support from experienced professionals. They can also leverage cutting-edge technology, such as AI and analytics, to provide customers with insights into their data, allowing them to make informed decisions that drive growth.
How Do You Become a Salesforce Platinum Partner?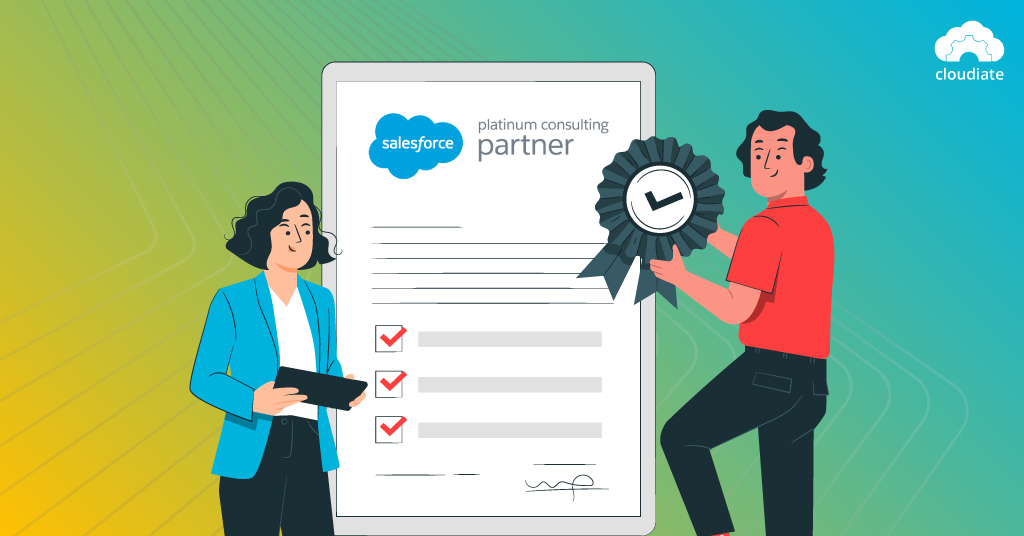 Becoming a Platinum Partner is a great way to showcase your commitment to quality and excellence, and it requires certifications, projects, and much more.
Narrowing down partners dedicated to producing quality output is no easy task – but it's well worth the effort!
To become a Platinum Partner, you must demonstrate that you have the skills, experience, and resources necessary to deliver customers high-quality solutions. You will also need to show that you are willing to go the extra mile regarding customer service. It requires an in-depth understanding of customer satisfaction and feedback collection processes.
Becoming Platinum Partner with Salesforce also requires you to collect enough points under a complex, algorithm-based point system called the 'Partner Value Score.' This score is calculated based on your sales performance and customer satisfaction ratings.
Additionally, you should also display your expertise in Salesforce products and services through certifications and customer success stories.
Finally, it would be best to have an active presence in the Salesforce community by attending events and participating in conversations. With all these efforts combined, you can become an official Platinum Partner with Salesforce!
Few Benefits of Becoming a Salesforce Platinum Partner?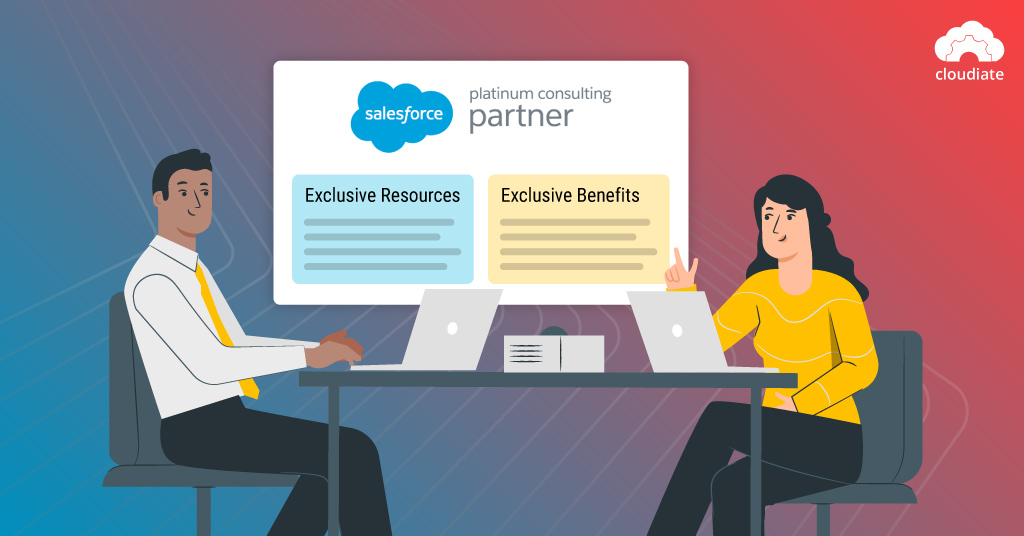 Becoming a Salesforce Platinum Partner can take your business to the next level.
The following are some of the benefits:
Access to exclusive resources to expand your business footprint and uplift your bottom line.
Opportunity to leverage Salesforce's cutting-edge technology, giving you an edge over the competition.
You will benefit from increased credibility and recognition as a leader in the Salesforce ecosystem.
More visibility and trust with prospects and customers.
Discover new sales leads.
Find resources and training programs that will help you grow your business.
With these benefits, becoming a Salesforce Platinum Partner is an excellent way to ensure your business remains competitive in today's ever-evolving market.
How Exceptional Is a Platinum Partner?
Becoming a Platinum Partner is no easy feat, and it requires a genuine track record of delivering successful Salesforce projects and a commitment to the highest customer service standards. As such, only 7-8% of all Salesforce consulting partners achieve this distinction, making it one of the most sought-after partnerships in the industry.
To become a Platinum Partner, you must first pass a rigorous assessment that assesses your level of technical competence and your prowess in providing excellent customer service. This evaluation must take a significant amount of time. Companies that can achieve this distinction have earned the respect of their peers in the industry due to their unwavering dedication to quality and competence.
Consider a Salesforce Certified Partner for Salesforce Set Up
Searching for a reliable partner to help you with Salesforce's technical implementation and customization?
If so, then you should consider a certified Salesforce Consulting Partner. With the help of these partners, you will have access to the best-in-class technology and expertise that can help ease your business's onboarding.
In addition, these partners will provide continuous training and advice to guarantee that you are constantly current on all of the most recent features that Salesforce offers.
Cloudiate Is the Way
Cloudiate is one of the top Salesforce Consulting Partners that can provide an excellent onboarding experience and seamlessly integrate Salesforce into your business. Our expertise and ability to streamline operations are unmatched!
By partnering with Cloudiate, you can get a fantastic ROI from your Salesforce investment. Their team of professionals has the experience and expertise to manage any integration and implementation tasks. Plus, our customer service is top-notch!
Welcoming you to the Cloudiate family, we assure you that our Salesforce expert will provide a comprehensive analysis of your company and assist you in formulating the best plan to get the most out of Salesforce. Moreover, we also support our clients with Salesforce training and expert advice.
Get in touch with us to chat with some of our premier Salesforce Setup Experts today!