Salesforce is the most dependable Customer Relationship Management (CRM) tool in business. It is the game-changer for every business that tackles team management, crisp organization and workflow, and customer satisfaction.
Among the most important tasks associated with managing a business is transparent and fast communication among teammates. Slack is a platform that allows all employees of a workplace to ensure transparency and convenient communication. Slack also permits one-on-one messaging. Sharing resources and last-minute updates become more accessible with this platform.
Salesforce Slack integration could help you transform your business for the better. This blog will tell you how.
What is Slack?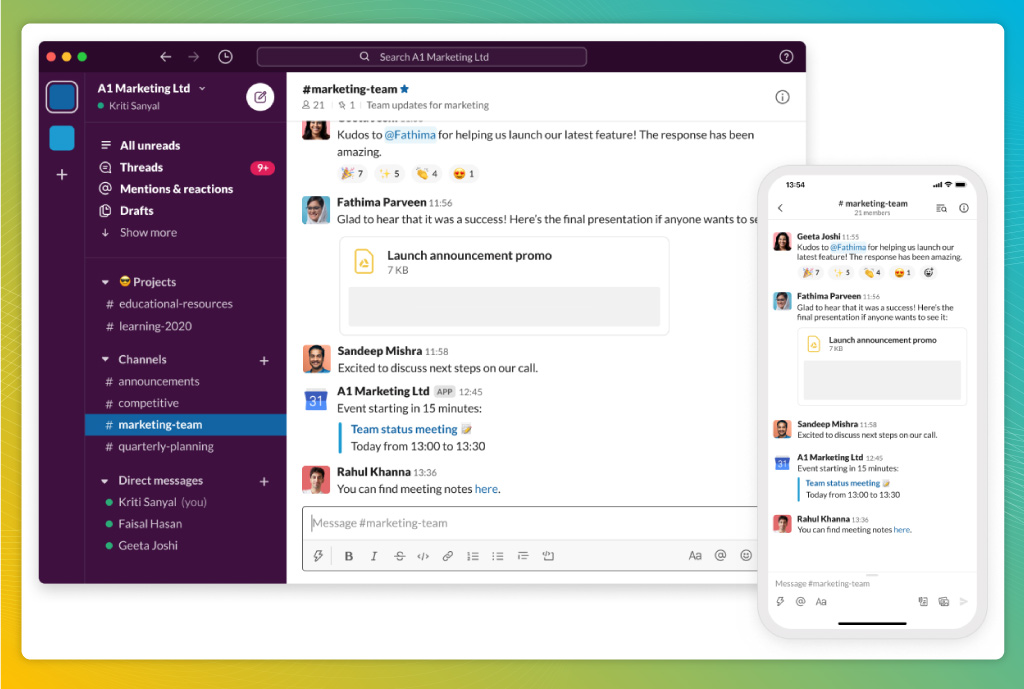 Slack is a software application designed for accessible workspace communication. It makes collaboration and team organization a cakewalk. It is a virtual conference room wherein all employees may communicate ideas and thoughts effectively. It is a one-stop solution for all your resources, documents, and other specifics.
Also read: Salesforce Customization vs. Configuration: Key Differences You Need to Know
There is a reason why nearly 600,000+ organizations use it worldwide. Slack facilitates video conferences, sharing screens, and sending multimedia content as a messaging tool. Separate channels may be dedicated to different teams as you please.
What is Salesforce Slack Integration?
Consider how you would have different things to buy when you visit a supermarket, starting from stationery to groceries.
Now fortunately for you, the supermarket is a one-stop destination for most, if not all, of your requirements. Otherwise, you would have to run to multiple stores to get everything on your shopping list. Once integrated, Slack acts like the supermarket to all your needs associated with Salesforce.
Once you give both Salesforce and Slack applications permission to work together and integrate, you can sit back and relax. You don't have to separately access both applications for specific tasks or switch back and forth between them.
For instance, Salesforce Slack integration will allow you to access contacts, account information, and information surrounding the leads from the Slack interface. That is, when an update regarding Salesforce CRM needs to be made, it could be done through Slack itself. This can save precious time.
Also read: A Guide to Salesforce Storage Types and Allocations
All of your sales and service records may be accessed via Slack as well. This integration lets you build and improvise Salesforce objects from Slack's interface.
So, how do you think this helps the sales pipeline? Read on.
Benefits of Salesforce Slack Integration for your Sales Pipeline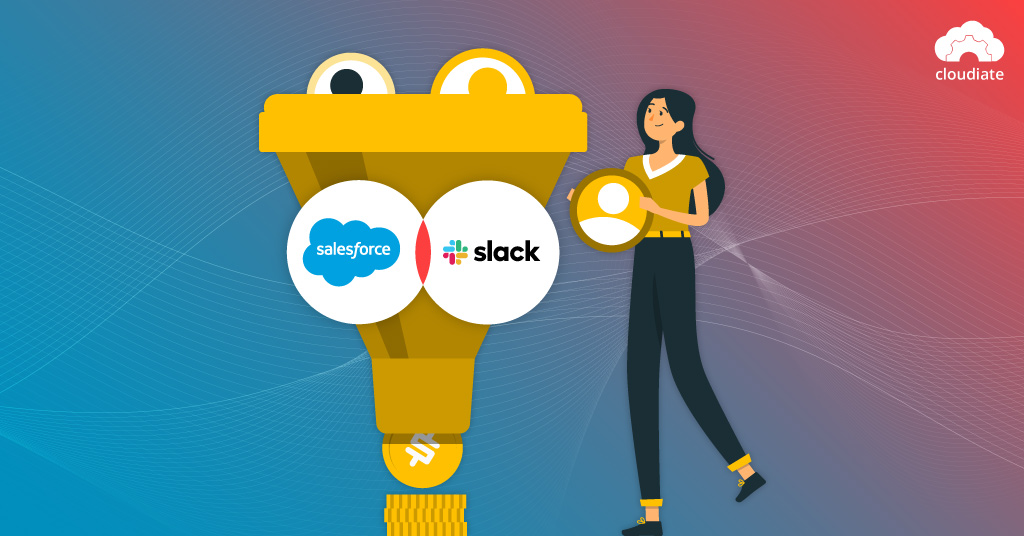 Managing the sales pipeline is a tedious but essential process. Starting with locating a lead to conversion, the entire sales process needs to be monitored and streamlined for better results.
An estimated 72% of sales managers regularly hold sales pipeline review meetings with their teams per month (Vantage Point). However, 63% of them do not manage their pipelines efficiently.
Let's introduce the Salesforce Slack integration at this juncture. Following are a few of the many advantages of integrating Salesforce with Slack:
Convenient multi-channel communication
With these two efficient platforms coming together, you can ensure that their features are utilized to the maximum. What this means is that you can share the information stored with Salesforce regarding customer contacts and lead details via Slack.
Meaningful Slack conversations that may need to be revisited can be stored with Salesforce as official resources/records. Additionally, you can label sensitive information on either platform.
Also read: How Can Outsourcing Cloud Management Give Your Business an Edge?
While working with a team, you would not have to walk your colleagues over the same thing twice. Choosing either of the two platforms to share your message can seal the deal for you.
Improved customer engagement
Sales are directly affected by how you handle your existing customers and potential leads. Additionally, you should also monitor the interests and preferences of your customers and instill changes to your workflow.
The trick is to get your entire team on board with updates and changes. Then, if all employees are in the same boat, you can efficiently resolve customer queries using the Salesforce Slack integration.
Your brand name will also easily reach places with better customer relationship management.
Better coordination between teams
Your employees can easily use both Salesforce and Slack. As a result, it becomes easier to optimize business processes by integrating these tools.
After you link your Salesforce CRM to a channel on Slack, all members can access and comment on it. This also allows for out-of-team collaborations.
Even if you are part of a customer-facing conversation on Slack, you would be able to converse with your team to churn out the most suitable responses to them. This is in addition to easy file sharing.
Management of quotes
Another significant aspect of sales is placing a quote for review or suggestion. Again, this calls for the coming together of various departments, including the sales and operations, management, and administrative ones.
Usually, experts would have to spend long hours reviewing quotes to evaluate their expectations. Subsequently, they would also need to suggest changes.
With Salesforce Slack integration, employees of different departments can access data directly from inboxes. This will, sequentially, affect changes in the Salesforce CRM management.
Effective report generation
Generating sales reports and analyses is at the crux of improving your sales pipeline. Integrating Salesforce with Slack makes this task easy. Vital reports like the sales report and the lead progress report can be easily modified using the tools in both platforms.
The relevance of reports is to recognize how well your investment is being churned out into ROI. Efficient analytics mean efficient ROI.
The Four-Step Process to Salesforce Slack Integration
Now that you know the benefits of Salesforce Slack integration, we'll tell you briefly how to go about it:
Step 1: Installing the Salesforce application to Slack
Under 'Add Apps,' you may choose Salesforce and confirm the integration in the Slack app directory page.
Step 2: Installing Slack to Salesforce
Under the 'App' section in your Salesforce account, you will find a link titled 'AppExchange.' From the list of apps that follow, choose Slack, and click on 'Get Now.'
Step 3: Integrating!
To connect your Salesforce and Slack accounts, you need to 'Connect your Salesforce Account' to Slack. Similarly, you have to permit Slack access to the Salesforce info bank. You should also activate record alerts in Slack.
Step 4: Start sharing
The Salesforce Slack integration permits sharing six Salesforce records and information on Slack. You can access the account, case, contact, lead, opportunity, and task records of Salesforce from the Slack interface.
Integrating the Slack app for Salesforce will help you dig up messages associated with records and share information with Slack. By integrating Salesforce with Slack, you can access records for standard or customized objects and add the messages on Slack to the Salesforce database.
Also read: How to Find a Reliable Salesforce Partner in India? 
Salesforce Slack integration ensures the perfect union of improved customer service and sales pipeline for your business. No matter the version of Salesforce that you are using, Slack integration is available for all, except Salesforce Essentials.
Do not worry if you are still confused about initiating this brilliant association! We've got your back! Reach out to Cloudiate today with all queries involving Salesforce. We can offer you complete guidance and take you on a tour of the potential benefits of integrating Salesforce with Slack.
Do not wait up and make that move!